Obstacles to holding street parties 'to be removed'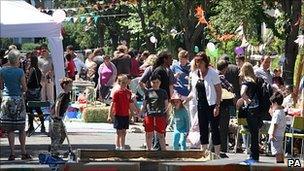 People wanting to hold street parties or summer fetes will find it easier to do so, ministers say, after councils agreed to cut the red tape involved.
Organisers will have to fill out one form to get approval by the authorities rather than several, as happens now.
Communities Secretary Eric Pickles said he wanted to dispel "the myth" would-be revellers had to pay big sums for road closures and notification of events.
Holding events should be "fun" and not an energy-consuming ordeal, he said.
Mr Pickles said the process of holding an outdoor community event in England would be simplified after councils and relevant government departments agreed to changes in the way such gatherings are licensed.
At the moment, individuals and groups are asked to apply for up to five different licences and the application process can often be unclear, resulting in hidden costs and last-minute cancellations.
In future, just one form will be required to cover details of food, music and insurance as well as the impact of road closures.
Government officials say people currently face costs of between £75 and £3,000 for putting on events - largely due to the impact of road closures - and the objective is to reduce these significantly.
Contrary to what many people believe, ministers insist that councils are not required to consult local residents about small events in streets which do not have a knock-on effect on the wider road network, or notify them about road closures.
Mr Pickles - who convened a recent meeting of council representatives and officials from the Department for Transport and the Department of Culture Media and Sport to discuss the issue - said councils should act "proportionately" and in the "public interest" when considering applications for events.
"Fetes, street parties and fairs should be fun," Mr Pickles, who will be issuing new guidance to the public on how to apply, said.
"Everyone's energy needs to go into the fun part, not trawling through endless reams of guidance and dusty rules. I want to banish the myths around laws preventing people from putting on events."
Mr Pickles' department has been active over the summer recess - typically a quiet time for government announcements.
On Thursday, it said it urge councils to remove unnecessary road signs as part of a crackdown on "street clutter".
Related Internet Links
The BBC is not responsible for the content of external sites.