Samantha Cameron and baby daughter leave hospital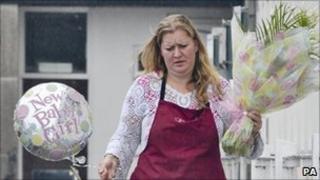 Samantha Cameron has been discharged from hospital in Cornwall following the birth of her daughter Florence, a hospital spokesman has confirmed.
The prime minister's wife spent three nights in the Royal Cornwall Hospital in Truro after giving birth by caesarean section earlier than expected.
David Cameron spent three nights in the hospital alongside her.
The Camerons have thanked staff and the public for their support.
Deputy Prime Minister Nick Clegg said Mr Cameron had not yet decided when he would be returning to his desk in Downing Street.
'Holding the fort'
The prime minister had been expected to be back at No 10 next week following his two-week family holiday, but Mr Clegg said he would now want to take some paternity leave.
"I spoke to him just after the birth of his baby daughter. We haven't yet spoken about exactly what date he is returning," Mr Clegg told LBC 97.3 radio.
"He obviously wants to take some time off, like any young dad does, for paternity leave and I will just carry on holding the fort."
The deputy prime minister said the government was planning to reform the current system of two weeks paternity leave, which he said was "unfair" on those who wanted to "take proper time off with their kids".
Speaking from his own experience as a father of three, at a public meeting in Croydon, he said: "You take two weeks off at the beginning, bluntly, when the baby is barely aware of your existence and you're of least help."
He said the government was "going to make the rules much more flexible and much more interchangeable".
'Doing very well'
The Camerons' fourth child was born on Tuesday after Samantha Cameron went into premature labour during a family holiday in Cornwall.
Hospital staff said the baby, born weighing 6lbs 1oz, and her mother have been doing "very well".
It is normal medical practice for women who have had caesarean sections to remain in hospital for at least 48 hours.
Christine Rashleigh, director of nursing, midwifery and allied health professions at the Royal Cornwall Hospital in Truro, said: "There were a lot of flowers and gifts coming and we accommodated them as best we could around the hospital.
"In the summer we double our population in Cornwall because of the holidaymakers, so we expect more people to be coming into the hospital.
"I think the only thing that would be different is the amount of reporters on the site."
The Camerons revealed on Wednesday they had chosen Endellion - a village in Cornwall - as one of their daughter's middle names to reflect the county of her birth.
Mr Cameron has said he will take paternity leave and, in the meantime, Mr Clegg is in charge of government business.
The Camerons already have two children, Nancy and Arthur.
Their first child, Ivan, who was born profoundly disabled and needed round the clock care, died in February last year.