Princess Diana's death was 'global event' says Blair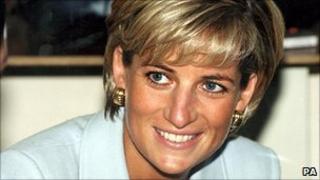 The death of Princess Diana was a "global event like no other" and posed huge challenges for the monarchy and government, Tony Blair has said.
In his memoirs, Mr Blair said he had sought to "protect" the Royal Family after her death in a 1997 car crash and "channel" public anger to its reaction.
His description of Diana as the "people's princess" seemed "corny now", but had felt "natural" at the time.
Her death was a "turning point" for the monarchy, the former PM added.
Although critical of the Royal Family's initial reluctance to acknowledge Diana's death in public - describing this as "bizarre" - he said the institution had ultimately shown it "could open up while remaining royal".
In his memoir A Journey, published on Wednesday, the former prime minister described Diana as "extraordinarily captivating" but an "unpredictable meteor" in terms of her relationship with the Royal Family.
"I really liked her and, of course, was as big a sucker for a beautiful princess as the next man: but I was wary too," he wrote, referring to what he describes as her "wildness of emotions".
He was "uneasy" about Diana's relationship with Dodi Fayed - describing it as a "problem" - and said she "didn't like it" when he raised the subject when they met for the last time, weeks before she died.
'People's princess'
Mr Blair said he had been "profoundly shocked" by her death, immediately realising this was a "global event like no other", and his tribute to her would be crucial in reflecting the public mood.
"I had to articulate what would be a tidal wave of grief and loss, in a way that was dignified but also expressed the emotion and love - not too strong a word - that people felt for her."
Referring to the origin of his famous remarks on the day after Diana's death, he says he scribbled a few words on the back of an envelope and then sought the "advice and input" of his communications director Alastair Campbell - widely believed to have come up with the phrase the "people's princess".
With hindsight, he said the phrase now "seems like something from another age, corny and over the top."
But he added: "At the time it felt natural and I thought, particularly, that she would have approved. It was how she saw herself and it was how she should be remembered."
Describing his task in the days following Diana's death, he said his aim had been "to protect the monarchy, channel the anger before it became rage, and generally have the whole business emerge in a positive and unifying way rather than be a source of tension, division and bitterness".
'Direct advice'
Mr Blair said The Queen had "grasped the enormity" of Diana's death but "was not going to be pushed around by it" in terms of how the monarchy should react.
However, he acknowledges that decisions such as not flying flags at half-mast at Buckingham Palace and Windsor Castle - although dictated by royal protocol - exacerbated public concern over the monarchy's response.
"It was all very by the book but it took no account of the fact that that people couldn't give a damn about the book," he said.
Amid signs that "the outpouring of grief was turning into mass movement for change", Mr Blair recounts how he telephoned the Prince of Wales to say the tide of public opinion could not be "turned back, resisted or ignored".
Although worried that he should be seen to be overly "shaping things", Mr Blair said he felt compelled to give the Queen some "direct advice" about the unfolding situation.
Fortunately, he says Prince Charles - whom he describes as a "curious mixture of the traditional and the radical" - also recognised that the Royal Family had to be "visible" at this time.
The Queen's subsequent television broadcast, in which she acknowledged the grief of her family and the public at Diana's death, was "near perfect", he wrote.
Mr Blair said he believed the events had ultimately strengthened the monarchy.
"People not only felt the monarch had taken a further and necessary step towards being more open to public opinion, but they also saw the human frailty and strength of its leading representatives and accepted both equally."