Expenses MP auctions duck island for charity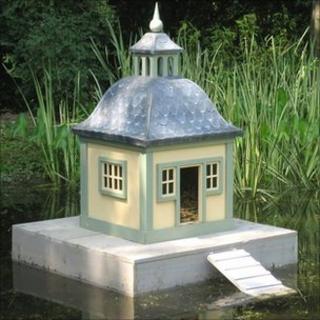 The ornamental duck island which sank the career of a Tory MP at the height of the expenses scandal has been sold for charity.
Sir Peter Viggers, who retired after it was revealed he had claimed £1,645 for the item, has given the proceeds of an auction to Macmillan Cancer Support.
The floating Stockholm duck island - used to protect vulnerable fowl from foxes - went for £1,700.
A Macmillan spokesman said "some good" had come from the expenses scandal.
The duck island was perhaps the best-known expenses claim of hundreds made public last year in a series of revelations which ended many careers.
Quack den
Sir Peter, the long-serving MP for Gosport in Hampshire, was asked to resign by party leader David Cameron.
He later described himself as "ashamed and humiliated" by his claim, which was rejected by the Commons authorities.
Sir Peter added that his ducks had "never liked" the island and that it had been placed in storage.
At auction on Monday, it was sold to a business centre in Wolverhampton.
A Macmillan spokesman said: "Macmillan Cancer Support relies entirely on public donations to provide practical, emotional and financial support to the two million people currently living with cancer.
"We are really delighted that some good has come out of the whole expenses scandal and are grateful for the donation from Sir Peter Viggers. This money is enough for us to provide a Macmillan nurse for two weeks."
The Stockholm duck house, with its hand-cut roof tiles and design based on that of an 18th Century Swedish building, costs £2,200 if purchased brand new.