Don't anoint next Labour leader, says Diane Abbott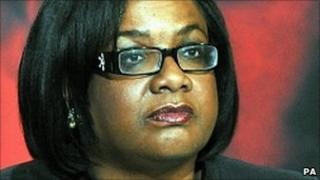 Diane Abbott has warned against "anointing" Labour's next leader, saying they must show Labour has "moved on" from Tony Blair and Gordon Brown.
Ms Abbott told the LabourList website the Tories made the mistake of choosing Lady Thatcher's "heir" - William Hague - as their leader in 1997.
"We won't look as if we've moved on if we appoint an heir," she said.
Her comments came as a BBC poll of councillors suggested they backed rival candidate David Miliband.
The poll for BBC Two's Daily Politics suggests Mr Miliband is beating brother Ed into second place among Labour councillors in England and Wales.
Party supporters are currently voting for a replacement for Gordon Brown.
There are five candidates in total, with Ed Balls and Andy Burnham also in the race.
David Miliband is widely regarded as former Prime Minister Tony Blair's choice, although he has not publicly backed him.
'Courage to change'
Ms Abbott, backbench MP for Hackney North and Stoke Newington, said: "The most dangerous thing is to elect the anointed heir, and I say that because I was an MP in 1997, and I vividly remember being in Westminster and seeing Mrs Thatcher literally tow William Hague around the corridors, like a recalcitrant toddler, and her message was - a kind of biblical message - 'Here is my anointed son'.
"The Tories voted for the heir and then they were out of power for 13 years. The truth is that New Labour did some great things in the past 13 years, but I think the electorate wants to see we've moved on, and we won't look as if we've moved on if we appoint an heir."
Asked whether she was referring to shadow foreign secretary David Miliband, Ms Abbott said: "You can say that. I'm not."
Meanwhile, Ed Miliband, in comments which could also be construed as critical of his older brother, has e-mailed Labour supporters, saying: "We must have the courage to change. We have to forge a new vision that appeals to the middle-class voters we lost [at the last general election].
"And we must reconnect with the three million working-class people who abandoned New Labour as they felt New Labour abandoned them."
But former Chancellor Alistair Darling told the BBC that David Miliband, whom he is backing, was the "more rounded candidate".
He added that it was "very fashionable" to criticise the New Labour project, but it was necessary that the party "should appeal not just to traditional supporters".
"I think David recognises the need to do that," Mr Darling said.
Under the leadership contest rules, the least successful candidate in each round is knocked out, with their backers' second-choice votes being distributed among their rivals. This continues until one contender is left with more than 50% of votes.
Electorate
The ComRes poll for Daily Politics suggests the contest would go to the full four rounds of counting, if the results of interviews with 265 councillors in England and Wales were replicated amongst Labour members across the country.
It gives David Miliband 33% of first-round votes, with Ed Miliband on 26%, Ms Abbott on 21% and Mr Burnham on 12%, with Mr Balls eliminated on 8%.
The poll suggests Mr Burnham would go next, followed by Ms Abbott.
In the final count, David Miliband would beat his brother by 57% to 43%.
However, the Labour leadership electorate is far wider than just party councillors, whose votes are of the same value of any party member.
The leader is being chosen by an electoral college, with three sections: MPs and MEPs; party members and members of affiliated organisations, such as trades unions and socialist societies.
Each section works on a one-member-one-vote basis, with the results from each of the three sections accounting for a third of the result.
The leadership result will be announced on 25 September, at the start of Labour's annual conference in Manchester.
ComRes carried out its polling between 23 July and 10 August.