Cameron appealed to Libya over Yvonne Fletcher's death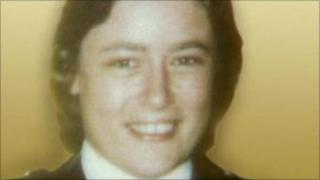 PM David Cameron has written to Colonel Muammar Gaddafi over the stalled probe into the death of Pc Yvonne Fletcher.
He wrote to the Libyan leader in July - part of a series of "intense representations" which resulted in a UK delegation visiting Tripoli in August.
The news emerged during an MPs' debate on the case of Pc Fletcher, who was shot dead in 1984 by a gunman believed to be inside Libya's embassy in London.
Minister Alistair Burt said he hoped it would mark a new stage of co-operation.
'Backroom deal'
The debate was called by Tory MP Daniel Kawczynski, chairman of the all-party parliamentary group on Libya, who said Pc Fletcher's killer must face justice in the UK.
He condemned a deal done with Libya in 2006 in which anyone charged with Pc Fletcher's death would face trial in Libya as a "shoddy backroom deal".
"You cannot face British justice in a Libyan court. It is simply impossible to face British justice in a court under British jurisdiction in Tripoli," he said.
For the government, Foreign Minister Mr Burt said the "engagement of the Libyan authorities is essential" if Pc Fletcher's killer was to be found, and he said the deal reflected Libya's right to decide where a suspect would be tried under their own extradition rules.
He said the protocol had led directly to police being allowed to visit Libya to carry out witness interviews in December 2006 and May 2007, which had been an "important step forward for the investigation".
"But if there is a successful investigation, which is the most important issue, then a joint decision will be reached about any trial," Mr Burt said.
"We should be realistic that a trial is more likely, if one is to take place, to be in Libya than anywhere else."
'Unacceptable'
He said the government had "made it clear to the Libyans that this issue will continue to cast a shadow over the bilateral relationship between our two countries and continue to do serious damage to the image of Libya among the UK media and public".
And he said "commercial considerations" would play no part in the way the investigation into Pc Fletcher's death was pursued.
He and Foreign Secretary William Hague had raised the case with their Libyan counterparts, he said, adding: "The prime minister also raised the case of WPc Fletcher when he wrote to Colonel Gaddafi in July."
Mr Burt added that the government would "not let the issue go away", and said the stalled investigation was one of the final remaining issues which still seriously affected the UK's relationship with Libya. It was "unacceptable" they had suspended the investigation in 2006.
'Intense negotiations'
But, he said: "I'm pleased to say that following intense negotiations by Her Majesty's Government, including by the prime minister and foreign secretary, last month a joint Foreign Office-Metropolitan Police delegation did visit Tripoli.
"This was at the invitation of the Libyan government and was the first time since May 2007 that Metropolitan Police investigators have been allowed to return to Libya to discuss the case."
"That meeting, on the 5 August, discussed ways of moving the investigation forward to the satisfaction of both countries and will, I hope, be the start of a new stage of co-operation."
But while it was a "welcome step forward", he said "much more needs to be done".
Pc Fletcher, originally from Semley, near Shaftesbury, was shot as she policed a demonstration at the Libyan embassy in central London in 1984.
No arrests have been made in connection with her killing. It was followed by an 11-day siege at the embassy, which led to embassy staff being allowed to leave the UK under diplomatic immunity laws.