Labour MPs to elect shadow cabinet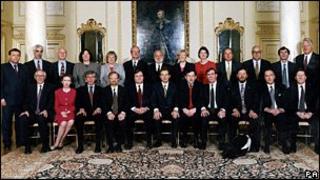 Labour MPs have rejected a move to allow the new party leader to choose who serves in the shadow cabinet.
Instead the party will revert to its usual practice in opposition, whereby a ballot of MPs decides which 19 will serve on the front bench.
But the leader will be able to choose which portfolios shadow ministers get.
The Parliamentary Labour Party also rejected moves to make at least 40% or 50% of them women, settling for 31.5% - or at least six women or men.
David and Ed Miliband, Ed Balls, Andy Burnham and Diane Abbott are vying to become the next Labour leader - the winner will be named on 25 September.
But Wednesday's results could make life more difficult for them, and mean they have to find front bench roles for MPs with whom they do not get along.
In the ballot earlier the PLP rejected alternative proposals for the leader to be able to choose half or one third of the shadow cabinet and said elections to the shadow cabinet should be every two years rather than annually.
Acting Labour leader Harriet Harman had suggested in June that half the shadow cabinet should be women, telling the Unite conference it was time for Labour women "to step out of the shadows".
Leadership hopeful Ed Miliband had said he was would support the move - and his rival Diane Abbott said it was "certainly worth discussing".
But instead MPs backed a minimum "gender profile" of 31.5% - which effectively increases the minimum number of women in the shadow cabinet from four to six.
In separate rules changes, the chief whip - currently Nick Brown - will be elected to serve a full Parliament.
Nominations for the 19 shadow cabinet posts will open at the Labour Party conference on 26 September. The 257 Labour MPs will vote over a number of days and the result will be announced on 7 October.
The changes must be formally endorsed at a PLP meeting next week.