Osborne cricitised over benefits cuts announcement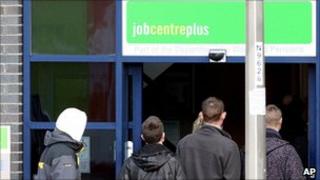 George Osborne's announcement that the annual welfare bill faces further cuts of £4bn has been criticised by Labour MPs and two Lib Dems.
The chancellor wants more savings on top of the planned £11bn, targeting those he says make a "lifestyle choice" not to work.
Labour's Liam Byrne said he was "taking an axe" to unemployment benefits.
And Lib Dem Bob Russell said he wished the government "had equal enthusiasm" towards people "fiddling" on tax.
Mr Osborne told the BBC on Thursday that welfare spending was "completely out of control" and he wanted to stop people just "sitting on out-of-work benefits" and not attempting to find work.
'Cheesed off'
The Treasury says the targets for the reductions - expected to be outlined in the coalition government's spending review in October - are still being discussed.
Further cuts of £4bn, in addition to the £11bn announced in June's budget, would represent a drop of about 6% of total spending on welfare.
But the manner in which Mr Osborne announced the cuts in a BBC interview appears to have annoyed some of his Lib Dem coalition partners, already unhappy about the pace of spending cuts and plans to raise VAT in January.
Mike Hancock and Bob Russell - who both voted with Labour against the coalition's plans to raise VAT to 20% - were critical.
Mr Hancock said he was "cheesed off" that he had not been consulted over the announcement and Mr Russell has complained to Commons Speaker John Bercow that MPs were not told first.
"I didn't get elected to punish the poor and the less well off," Mr Hancock told BBC Radio 4's PM programme.
"This will go right to the heart of the benefits system. This is really going hard at it with a sledgehammer. He has got a lot of questions to answer. We need to know where the rest is coming from."
'Scapegoat'
And Mr Russell told the BBC: "I think we need to approach all forms of waste and abuse, I've no problem, with that, but I wish the government had equal enthusiasm towards people who are fiddling on VAT, income tax and all all those tax avoidance schemes as well.
"Blaming welfare cheats, and I don't support welfare cheats, is similar to the French government blaming everything on the Roma, who they are deporting. So finding a scapegoat I don't think is very ethical."
Labour say the plans lacked details of how the savings will be achieved and over what period, and should have been announced to Parliament first.
"The reality is that right now what we need is a plan to get people back into work," Shadow Chief Secretary to the Treasury Liam Byrne told BBC Breakfast.
"All we have got from the government so far is a plan to cut public spending so quickly, so deeply that hundreds of thousands of people will be put on the dole."
Aware that spending cuts would push up jobless levels, he said Mr Osborne was trying to keep the unemployment bill "as low as possible by taking an axe to dole payments".
And Labour MP John McDonnell dismissed Mr Osborne's comments "as a publicity stunt" and said they did not "reflect the reality" of most people who wanted to work but faced a lack of jobs and support.
However, Tory MP Michael Fallon - a member of the Treasury Select Committee - said when all departments were having to make substantial savings, the welfare bill should not be "sacrosanct".
"It would be quite wrong to start cutting every other departmental budget but leave the entire welfare bill intact," he told Today.
There were half a million vacancies in the economy, he added.
"We have this generational unemployment of families where there has been nobody working for a long period of time and we have to change that."
The BBC understands discussions are continuing in Whitehall about whether it is possible to limit pensioner benefits - such as the winter fuel allowance, bus pass and free TV licence - without breaking Prime Minister David Cameron's election promise that he would preserve them.
The Conservatives have described as "lies" Labour's warnings that those benefits would be scrapped.
October's spending review is likely to be the toughest in a generation, with most government departments have been told to prepare packages of cuts worth between 25% and 40%