Queen's Speech shift is 'major power grab' say Labour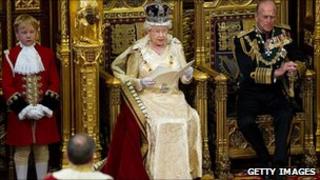 The government has been accused of attempting a "major power grab" by proposing to move the annual Queen's speech back from autumn to the spring.
The proposal was announced by Commons Leader Sir George Young, to fit in with plans for fixed-term parliaments.
Labour's Rosie Winterton said it meant ministers had "abolished next year's Queen's Speech" and given themselves an extra year to get legislation through.
Deputy PM Nick Clegg said next year was a "one-off transitional arrangement".
Pomp and ceremony
If backed by MPs, the proposal would mean the next Queen's Speech would not take place until the spring of 2012.
In recent years the Queen's Speech, and the pomp and ceremony of the State Opening of Parliament, has been held in November or December in non-election years.
However this means that, as in 2009, the government programme covers just six months or so when there is a May general election.
The proposed changes - announced in a written ministerial statement - would mean that with fixed elections there would be five Queen's Speeches, each covering the programme for a year.
There was a Queen's Speech in May after the change of government in the general election - the programme outlined was expected to cover the period to November 2011.
The timetabling change means that there will now be an extra six months or so for the coalition to get its programme through Parliament. Deputy PM Mr Clegg, who is spearheading planned constitutional reforms, said that was a one-off arrangement which was necessary to make sure the Queen's Speech and fixed term parliaments were "aligned".
Labour said the coalition simply wanted extra time to get "difficult" legislation through Parliament over the next 18 months and should end this year's Parliament in May instead.
"What the government has done is to unilaterally decide to abolish next year's Queen's Speech," Rosie Winterton, the shadow Leader of the House of Commons, told BBC Radio 4's World At One.
"It is an affront to Parliament and an abuse of power."
'Wholly sensible'
Labour's Denis MacShane told MPs it was not "acceptable" that Sir George had made the announcement in a written statement - not in person - without discussing it with other parties first, adding: "Time is power."
He said: "Pushing the Queen's Speech back to 2012 is a major power grab by the executive."
Sir George said he had wanted to give MPs notice of the "wholly sensible" change, before they debated the Fixed Term Parliaments Bill on Monday afternoon - a debate which saw the proposed reform comfortably clear its first parliamentary hurdle with a majority of 288.
He added that it had been made in a written statement: "I did not make this announcement on the Today programme which is something we grew used to in the last government."
Asked why they did not begin by holding a Queen's Speech next spring, he said it would not allow enough time to debate the proposed legislation from the last one.
He said the proposal would "also ensure that Parliament has adequate time in this session to debate and scrutinise the government's legislative programme, which as the House will be only too aware, was something consistently denied by the last government".
He added: "Far from being an affront to Parliament, it is one way in which this government is empowering it."
But Lib Dem MP Don Foster and Tory Peter Bone said if the session was to be longer, there must be more time for private members' bills - legislation proposed by individual MPs.
BBC deputy political editor James Landale said the last year when the monarch did not come to Parliament was 1949.
He said that for the Government, the extra length of the current session means they lose the advantage of having a deadline next year by which they have to force through legislation.
But on the plus side they also lose the chaos of the so-called "wash-up" period before the end of a parliament when a lot of unexamined legislation is rushed onto the statute book - and a lot of other legislation is dropped to get the more important measures through.