Unions to vote on banning sunbeds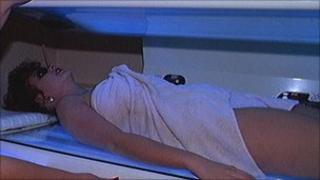 The government should ban the use of sunbeds in tanning salons in an effort to combat skin cancer, a trade union argues.
The Society of Radiographers (SoR) says the use of machines for cosmetic purposes is "unnecessary" and is urging ministers to highlight the "dangers".
Delegates at the TUC congress in Manchester are expected to vote on the union's proposal on Wednesday.
A tanning industry spokeswoman called the idea "complete nonsense".
Parliament voted earlier this year to ban sunbeds for cosmetic use among under-18s in England and Wales, following a similar piece of legislation in Scotland.
Ministers in Northern Ireland say they are planning to follow suit.
'Medical costs'
Speaking ahead of the TUC debate, Warren Town, the SoR's director of industrial relations, said an under-18 ban was not enough.
He told the BBC News website: "People are severely damaging themselves by using sunbeds.
"There are other ways of getting a tan, such as airbrushing, without the same risk of cancer."
He added: "There's a cost to those affected and there's also a cost to the NHS. They are doing no-one any good."
The SoR says skin cancer is the most common cancer among 15 to 34-year-olds in the UK and kills more than 2,000 people a year.
Mr Town conceded that the government was unlikely to ban sunbeds for cosmetic use in the near future, but added: "If, at the end of all this, a few people say they will no longer use tanning machines, then we have done our job."
'Ban holidays instead'
Sunbeds are also used by the medical profession to treat skin conditions such as psoriasis and eczema. The SoR argues that this should continue.
It is estimated there are 3,000 tanning salons in the UK which use sunbeds.
Kathy Banks, chief executive of the Sunbed Association, said: "The idea of a ban is complete nonsense. If the union is doing it because of people's health, then it might as well ban people from going on holiday.
"Loads of people going to the Mediterranean spend hours in the sun [which] is more likely to cause cancer.
"People using sunbeds only do so for a short period, such as 15 to 20 minutes in a fortnight."
Ms Banks added: "The government has no intention of banning tanning salons. The machines used comply with European safety standards.
"If the government wants to have an impact on public health, maybe it should ban alcohol or tobacco instead."
The 142nd TUC congress, taking place in Manchester, continues until Thursday.