Clinton tuned into PM's questions to watch Blair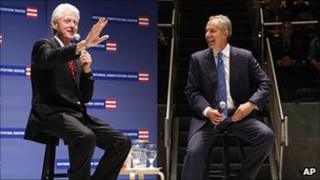 Former US President Bill Clinton has revealed he tuned in every week to watch prime minister's questions just to see how Tony Blair performed.
Mr Clinton, who is awarding the former prime minister a medal on Monday for his global human rights work, told Mr Blair "you were great" at it.
Mr Blair, who described PMQs as an "unforgiving place", said the former president would have shone at it.
Both men also praised the special relationship between the US and UK.
Speaking in Philadelphia ahead of receiving the Liberty Medal, Mr Blair said suggestions that the US-UK alliance had "had its day" were wrong.
"We should preserve it, be proud of it and should not give it up," he said.
It was not a "tie of sentiment" but a "living, breathing" relationship that still mattered hugely.
Mr Clinton said he believed the alliance would endure for "50 years and beyond".
Mr Blair and Mr Clinton were strong allies during their time in office, but Mr Blair has been criticised for his subsequent close relationship with President George W Bush - which critics say led the UK to support an illegal war in Iraq.
The former prime minister, who published his memoirs earlier this month, has often spoken of his nervousness before prime minister's questions - saying he still gets a strange feeling approaching midday on a Wednesday when the weekly event is held.
He told the US audience that politicians had to be "quick on their feet" to do well during the session, and told Mr Clinton "you could have done it".