Ex-MPs to argue expenses decision at Supreme Court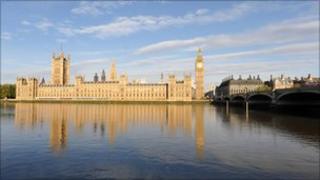 The Supreme Court is to decide whether three former Labour MPs are immune from prosecution for allegedly abusing their Parliamentary expenses.
David Chaytor, Jim Devine and Elliott Morley argue they are protected by Parliamentary privilege.
The three former MPs deny charges of false accounting.
But they claim that because the expenses system is run by Parliament it should be for Parliament alone to investigate any alleged wrongdoing.
Lord Judge, the Lord Chief Justice, has refused permission to take the case to the Supreme Court in the wake of the Court of Appeal's decision, in July, that they are not protected from prosecution by Parliamentary privilege.
But Lord Judge said that because the matter involves an important point of law it should be up to the Supreme Court to decide whether to hear their argument.
He said the three could pose a question to the Supreme Court judges, allowing the former MPs to make a direct application for a final hearing into the case.
There will now be a hearing before a panel of nine judges next month, on 18 or 19 October.
Lord Judge refused the MPs, who were not in court, legal aid for representation by separate lawyers. They were allowed one leading and junior counsel and one firm of solicitors.
The charges against the men followed a nine-month police investigation triggered after details of all MPs' expenses claims were leaked to a national newspaper.
Mr Morley, the former MP for Scunthorpe, Mr Chaytor, formerly MP for Bury North and ex-Livingston MP Mr Devine were barred from standing at the general election after the allegations surfaced.
They are all on unconditional bail and due to face separate trials at Southwark Crown Court in London.
The charges carry a maximum sentence of seven years' imprisonment.
The Court of Appeal also ruled against Lord Hanningfield on the question of privilege but the former Conservative peer, who denies the charges, is not pursuing a Supreme Court challenge.