Iain Duncan Smith 'doesn't recognise' £4bn welfare cut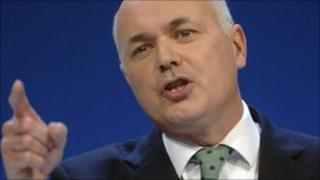 Iain Duncan Smith has said he "simply doesn't recognise" the figure of £4bn the Chancellor indicated will be cut from Britain's benefits bill.
Last week George Osborne said "several billion pounds" in welfare cuts will be announced in next month's spending review.
But work and pension secretary Mr Duncan Smith told MPs he was still in negotiations with the Treasury.
Labour said his words demonstrated "chaos at the heart of government".
But Mr Duncan Smith said could not confirm any figures ahead of the review on 20 October.
And he still hoped to convince Mr Osborne to back his idea to scrap the existing complex system of benefits in favour of a single, universal payment which would be aimed at making work pay.
'Absolutely doable'
This would have a set-up cost, which Labour has estimated could be as much as £7bn, but Mr Duncan Smith said it would save money in the long run, as the long-term unemployed came off benefits and started paying tax.
Mr Duncan Smith said he was in discussions with the Treasury and was "trying to prove that concept to them".
He has said billions could also be saved by eliminating fraud and error in the tax credit system, which is run by the Treasury, which he believed should be scrapped and any savings handed to his department to help pay for his proposed reforms.
"We are discussing that right now," he told the committee.
He also rejected claims that the "universal benefit" idea would need a costly new IT system, saying: "I believe that it is a middling IT change that is required."
His permanent secretary, Leigh Lewis, told the MPs: "We have a strong IT record and we do believe it is absolutely doable."
Mr Duncan Smith refused to speculate on the details and cost of his planned shake-up of the benefits system, which he said would be set out in a White Paper in the autumn, when he had learned what his department's budget would be in October's Comprehensive Spending Review.
He rejected reports that the DWP would be forced by the Treasury to cut a further £4bn from its budget, in addition to the £11bn announced in the budget.
Stand-up rows
He told the Work and Pensions Committee: "Any other figure that references the Spending Review I obviously clearly can't confirm because I'll be quite honest with the committee, we haven't reached any conclusions about this at all. Not at all.
"As regards figures like £4bn, I simply don't recognise that figure at all."
He played down press reports of stand-up rows with Mr Osborne over the DWP's budget, telling MPs they should not believe everything they read in newspapers.
Mr Osborne indicated to the BBC's political editor Nick Robinson earlier this month that the Treasury could announce a further £4bn of welfare savings in next month's spending review on top of £11bn outlined in May's Budget.
Mr Duncan Smith said that Mr Osborne had never stated this figure in public and it was not one that he, Duncan Smith, "recognised".
"He himself did not quote that figure," Mr Duncan Smith told the committee.
Downing Street said Mr Osborne had not said £4bn but had, rather, said "several billion".
Shadow Chief Secretary to the Treasury Yvette Cooper claimed there was "chaos" at the heart of government over the issue.
She said: "By conducting these rows in public they are scaring a lot of vulnerable people who now have no idea how much more they will lose.
"Iain Duncan Smith said today (Wednesday) he wants to protect people who need the most help. But has he not noticed that cuts George Osborne has already announced hit the poorest hardest?"
In an urgent statement in the Commons last week, Mr Osborne said welfare spending had increased 45% in the past 10 years and the government could not continue to spend one in three pounds of its total budget on welfare.
Restating the coalition's goal of fundamental reform of welfare, he said rewarding work would be "absolutely central" to the plans but those genuinely unable to work would be protected.
Although there would be "difficult" choices in the spending review, he said decisions taken would be fair to "different sections of society and different generations".