Thousands of green jobs could drive growth, says Huhne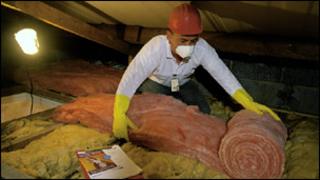 "Green jobs" could ease the impact of spending cuts and drive the recovery, Energy Secretary Chris Huhne has said.
He told MPs thousands of new jobs could be created and the insulation industry "enormously" increased as part of the coalition government's "green deal".
Improving energy efficiency would be a key part of an energy bill due to be published in November, he said.
It comes amid fears of big job losses as the government slashes spending to tackle the £155bn deficit.
Ministers have been asked to draw up plans for budget reductions of between 25% and 40%.
Mr Huhne told MPs on the energy and climate change committee not to underestimate the impact new "green jobs" could have nationally.
He said a lot of the recovery from the Great Depression was due to new industries, adding: "I think the green industries have the same sort of potential to really drive growth."
He said an energy efficiency programme for homes - which the government intends will be largely funded by savings through energy bills - could create thousands of jobs across the UK, for which people could be quickly trained up.
"We will be looking at literally thousands of jobs and enormously increasing the size of the insulation industry."
He said the government's "fiscal tightening" programme over four years amounted to 1.5% of GDP a year - while the impact of energy infrastructure and homes insulation investment could amount to 1.5%-2% and had the potential to offset "the demand-restrictive effects of some of that fiscal tightening".
It was "pretty outrageous" that the UK used more energy to heat its homes than Sweden - where temperatures were on average 7% lower in January, he said.
Mr Huhne also told MPs that, in the rush to put together a coalition deal between his party - the Lib Dems - and the Conservatives in May, he and Conservative Oliver Letwin "forgot" to include a reference to the renewable heat incentive - something planned under Labour to support technologies like ground source heat pumps.
But he said it would be "an absolutely essential part" of meeting the government's target of making sure 15% of its energy comes from renewable sources.