ID card compensation ruled out as MPs approve abolition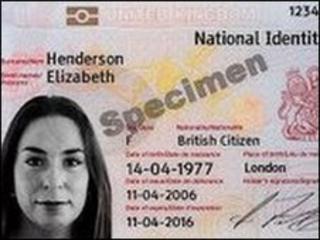 Labour have failed in an eleventh-hour attempt to get compensation for people who bought ID cards as MPs approved legislation to scrap them.
Shadow ministers wanted people who own cards to be refunded, saying they had bought them in "good faith".
However, they were defeated in the Commons on the issue as MPs passed a bill which will scrap the cards and the National Identity Register.
The legislation must be approved by the House of Lords before becoming law.
The coalition government pledged to scrap ID cards, introduced on a voluntary basis by Labour, within 100 days of taking office in May.
The cards, which cost £30 to buy, will be invalidated within a month of the Identity Documents Bill becoming law. The bill passed its third reading without a vote on Wednesday.
Before the election, the Conservatives warned people thinking of applying for a card that they would not be able to use it under a future Tory administration.
'Basic fairness'
But Labour says those holding cards should get compensation as a matter of "justice".
"There is basic fairness here," shadow home affairs minister Meg Hillier told MPs, arguing that cardholders should get a £30 refund when they next renewed their passport.
"This credit would give some comfort to those who have paid £30. Those who bought in good faith from the trusted Identity and Passport Service have been diddled frankly by this government."
Labour's Denis MacShane, a cardholder himself, said his money was effectively being "confiscated" and said if someone's house had been taken by the state, that would get recompense.
But SNP MP Pete Wishart said it was "tough luck" on card owners as they had made an informed choice to buy one.
"We have to be absolutely and abundantly clear with this - ID cards are exclusively and solely a New Labour creation," he said. "All other parties in this House made it absolutely clear that we would have nothing whatsoever to do with them."
Ministers say cardholders were aware they would be invalidated with a change of government.
Rejecting calls for compensation, Immigration Minister Damian Green said the scheme had cost £292m but fewer than 15,000 cards had been issued - equivalent to £20,000 per card.
"This is by any standards a scandalous waste of money which lies squarely at the door of ministers in the previous government," he said.
"We don't see why the taxpayer should have to pay out yet again."
An amendment to the bill proposing a £30 rebate was defeated by 113 votes.