Will Lib Dems make conference trouble for Clegg?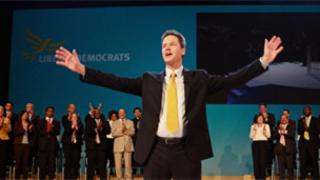 These are confusing times to be a Liberal Democrat.
Think about it.
You lose five seats at the general election, but still find that you are in power for the first time in more than 80 years, and your leader is suddenly deputy prime minister.
Your membership is up by 4,500 but your average opinion poll ratings are down to 16% - seven points lower than at the election.
Much-cherished policies on electoral reform, redistribution of the tax burden and protecting civil liberties are all suddenly within your grasp, but you also find yourself signed up to a cap on immigration, renewing the Trident nuclear deterrent and raising VAT.
So, what will the mood be like among the record number of delegates who have signed up to attend this year's annual conference in Liverpool? (A city the party controlled for 12 years until losing it to Labour in May).
Unhappiness
The first thing to say is that many of those delegates will be local councillors from around the country who are well used to coalition politics already.
Running local authorities often involves coming to an arrangement with your political enemies to get things done.
And, for the Lib Dems, getting power at Westminster was always going to involve a deal with another party - an outright majority was never going to happen.
So, few will object to coalition in principle.
But it is the detail that will leave plenty of room for unease.
Unfortunately for the critics, there will not be all that many opportunities from the platform to make their unhappiness heard.
The agenda is such that many of the policy motions being debated are uncontroversial, with the most critical coming on Monday when the coalition policy on "free" schools will be up for discussion.
Big decisions
That motion calls on people to reject free schools and to ensure that local authorities retain some control over all schools in their area.
If passed, it will do nothing to alter government policy, but would be embarrassing to the party leadership.
Wednesday afternoon will also see Lib Dem cabinet ministers (minus Nick Clegg who will have jetted off to the United Nations in New York by then) taking questions from the floor.
Mr Clegg will do something similar on Sunday afternoon; but these are often very polite affairs, with questions submitted ahead of time, and sifted.
Of course, much of the debate over the wisdom of the party's position in government will take place in the bars and restaurants and at fringe meetings around the Liverpool docks.
Some big decisions are looming for the Lib Dem's five cabinet ministers and there will be no shortage of advice from the grass roots on how they should proceed.
Soon the reckoning over student finance will have to be grasped.
Upbeat message
Lord Browne's report into the future of higher education funding is due within weeks, and if, as many expect, he recommends raising tuition fees, then this will be a testing moment for the coalition partners, since the Lib Dems have campaigned long and hard against the very existence of such fees.
True, the coalition agreement makes provision for such a disagreement, allowing Liberal Democrat MPs to abstain in a parliamentary vote, but nonetheless it would mark a chink in the unified front that both parties are endeavouring to present.
Other issues are already bubbling away, such as the proposed cap on non-EU immigration.
The business secretary, Vince Cable, has again made his unhappiness about the policy clear, seemingly immune from the usual ties of collective responsibility that bind ministers to their government's policies, in public at least.
A handful of Lib Dem MPs, outside government, have been chipping away over Chancellor George Osborne's spending review and will no doubt have plenty to say when the full panoply of cuts is announced on 20 October.
But perhaps the summit of uncertainty will come next May, when, on a single day, the Lib Dems will be fighting to hold on to thousands of council seats and asking the electorate to change the voting system for Westminster elections.
If both these tests are flunked, then who knows what the consequences for the party will be.
In the meantime, and despite the rumbling concerns, expect a reasonably upbeat message to emanate from the banks of the Mersey - after all, how many of the Lib Dem faithful really believed five months ago that they would actually have a hand in running the country?