Protest at the Lib Dem conference in Liverpool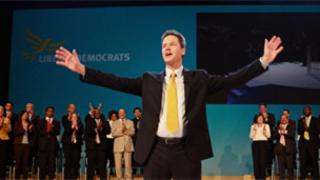 Protesters gathered outside the Echo Arena in Liverpool ahead of the Liberal Democrat's annual conference.
Alec McFadden, president of Merseyside's TUC, was among a number of trade unionists who said they were angry at the coalition's proposed cuts to public services.
The second protest, which will involve about 2,000 TUC members, will take place on Sunday at the Salthouse Dock.
Lib Dems are hoping to allay fears over the pace of the deficit reduction.
The conference, which is being held at the arena and Convention Centre in Liverpool from 18 until 22 September will be attended by more than 6,000 delegates.
Nick Clegg, the deputy prime minister, is expected to say the party can reap the electoral benefits of growing economic strength in time for the next general election in five years' time.
Alan Manning, regional secretary of the TUC, said: "If these cuts go ahead as planned we will see unemployment rise, a deterioration in vital services and it will have a knock-on effect on the private sector."
Private land
He will be marching along with other TUC members from the Anglican Cathedral to the Salthouse Dock on Sunday.
Merseyside Police will be carrying out high level security checks and have hundreds more officers on patrol throughout the conference.
Mr McFadden, who led the protest by the arena, said: "We are calling this the Dog Day Demo - to reflect how the Lib Dems have reneged on many of their pre-election promises."
Police had recommended that protesters use the Salthouse Dock as a base rather than the Echo Arena.
A Merseyside Police spokeswoman said: "We are committed to facilitating peaceful protest.
"The area around the Albert Dock being private property, the conference venue itself and surrounding area is not suitable for hosting a protest of any size.
"The presence of a number of temporary structures, including the Liverpool Wheel, has limited the options for locating a protest site any nearer to the conference centre, than the designated area at Salthouse Dock."
It is hoped the conference will bring at least £10m into the local economy.