Lib Dem members to hold emergency debate on Trident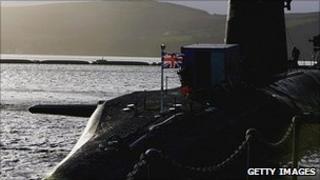 Lib Dem party members are to hold an emergency debate on the future of Trident amid confusion about coalition plans to renew the nuclear deterrent.
The Lib Dems and the Tories have different views on Trident, with the Lib Dems wanting alternatives to an identical replacement to be considered.
Party leader Nick Clegg has said all options should be "left on the table".
David Cameron says Trident will be updated but it is right that the government gets "value for money".
Trident was not initially on the conference agenda in Liverpool but members have selected it for an emergency debate on Wednesday.
Financial pressures
There was confusion last week after it emerged that ministers might delay key decisions on renewal until after the next election in 2015.
The Lib Dems opposed Trident renewal before the election, saying the UK could not afford it and it was largely obsolete in a post Cold War era.
It is currently the subject of a value-for-money review but Lib Dem MPs have called for its future to be considered as part of the wider defence review.
Mr Clegg told the BBC's Andrew Marr show that there were very hard choices surrounding the defence budget, as in all other areas, as the government sought to bring down the deficit.
"I don't think people would understand why we would sort of exempt Trident from the same financial pressures when people are having some of their benefits qualified in different ways," he said.
"I don't think that would be fair, I don't think that would be reasonable so I think we are looking at this all in the round. You can't keep a whole lot of things on the table but take something else completely off the table. I don't think that's right."