Decision not to join euro was right, says Alexander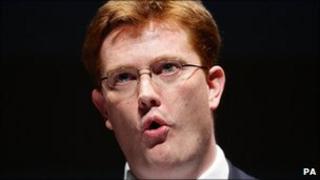 Senior Lib Dem minister Danny Alexander has admitted the previous Labour government made the "right decision" in not pushing to join the euro.
The chief secretary to the Treasury, who once helped run the campaign for the UK to adopt the single currency, said he felt "relieved" it had failed.
Being out of the euro gave the country extra "flexibilities" when recovering from the economic crisis, he added.
Labour ruled out a referendum on joining the euro in 2003.
The then Chancellor, Gordon Brown, stated that just one of his five key economic tests had been met, and that a public vote would only be held when it was felt joining the single currency would be in the national interest.
'Long way off'
Euro membership has since died down as a political issue, although it is broadly supported as a long-term policy by the Lib Dem leadership.
The coalition agreement reached between the Lib Dems and the Conservatives in May states that the UK will not join or "prepare to join" during this parliament.
Mr Alexander, who was head of communications for the Britain in Europe movement from 1999 to 2004, told a fringe meeting at the Lib Dem conference in Liverpool: "In the current economic circumstances I'm relieved that we are not in the euro...
"I still think there's a case for that [membership] in the long term, but that's a long way off."
He added: "I think that the flexibilities that we have as an economy are helping our economy to recover."
Mr Alexander, who is overseeing the government's spending cuts programme ahead of October's spending review, also said: "The fact that the pound has fallen has a strengthening effect on external trade and that's one of the drivers for the economy that we need.
"I think that means the right decision on the euro was made in the end."