Major reform of UK benefit system 'four years away'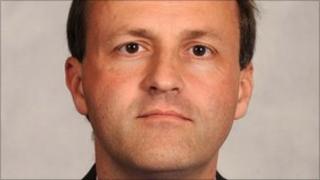 Iain Duncan Smith's plans for sweeping reforms of Britain's benefit system might not happen for four years, a minister has indicated.
The work and pensions secretary wants to scrap the existing, complex system and replace it with a single payment.
He is due to publish a white paper later this year outlining his proposals.
But Steve Webb, a junior minister in his department, said major reforms would not happen straight away.
Chief Secretary to the Treasury Danny Alexander has indicated that more than £4bn could be cut from the benefit budget in next month's comprehensive spending review, in addition to the £11bn announced in the budget.
But fellow Lib Dem MP Mr Webb told activists at their party conference what he called long-term reforms of the system must not be dropped in the rush to save money.
'Long-term destination'
Mr Webb, who is the pensions minister, said: "We must not lose sight of the long term in trying to get the short-term fiscal position right.
"Within DWP one of the big visions, if you like, is to have a benefits system which isn't just about how many pounds you pay a week to somebody who has no job but about trying to remove the barriers to that person having a job if they are fit and able to do so.
"Some of those reforms take time. I think the big reform of dynamic benefits and so on could be up to four years away.
"So we need a mixture of shorter-term things that improve things for people but also a bit of long-term visions and reform.
"Some of the things I want to do about pensions could take a while to come in but if all we do is focus on the short term, then we never reach the long-term destination."
He defended changes to housing benefit, insisting "we won't be cutting, it will just not be going up as fast as we otherwise would have done".
He hoped the change would "rein in" rising rents to enable people to afford them by working instead of relying on benefits.
Child benefit
Mr Webb outlined the programme to help people off benefits and into work, saying the government will "very heavily pay by results" with contractors rewarded only if clients were able to find a job.
Mr Duncan Smith has outlined a range of options for the wholesale reform of Britain's benefit system, which he claims has reached breaking point.
But he told MPs last week he favours the most ambitious of these - scrapping all current out-of-work benefits in favour of a single payment, which would be tapered to encourage people back into work.
He said he was in the process of trying to convince the Treasury to back the scheme, which could cost billions to set up - money Mr Duncan Smith claims would be clawed back in tax when the long-term unemployed took jobs.
One area facing possible cuts in the short-term are universal benefits such as child benefit and the winter fuel payment. Lib Dem activists earlier urged the government to keep child benefit payments for all mothers.