Clegg's meteoric rise to the world stage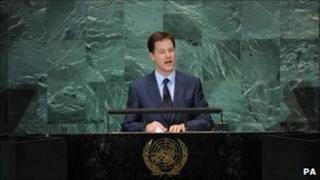 Nick Clegg was in the middle of a set-piece TV interview with a US broadcaster when his staff got the call from the UN protocol department - he could speak to world leaders in 20 minutes time, instead of his alloted slot in the middle of the afternoon.
So the UK's deputy prime minister was ushered swiftly through the thicket of UN and State Department security to the podium of the General Assembly.
All in a day's work when you are representing Britain on the world stage.
Seasoned Whitehall observers point out that a year ago, Nick Clegg probably never imagined that he would be the number two in a coalition government speaking in front of the United Nations.
Unlike Foreign Secretary William Hague, who has had several years to prepare, Mr Clegg has had a stratospheric rise.
Only yesterday he was lunching with the US Vice President Joe Biden at the White House, discussing everything from Afghanistan to Sudan
And now, standing in for Prime Minister David Cameron - who was expected to be on paternity leave this week - Nick Clegg told the global audience that the new government would restore Britain's international reputation by pursuing a hard-headed foreign policy based on liberal values.
Mr Clegg's veiled reference to Iraq did not go unnoticed at the UN - his party opposed the US-led invasion, and in his personal view it was illegal.
'No more nation-building'
"In recent years we have learned - in some cases the hard way - that freedom cannot be created by diktat. Freedom cannot be commanded into existence," said.
That is being seen here as a signal that the Liberal Democrats do not intend to allow the coalition to embark upon ambitious nation-building projects like the one attempted in Iraq.
And it is also a reminder to the party back home that being part of a coalition with the Conservatives has not diluted Clegg's position on Iraq.
One UN official noted that on Middle East policy, the coalition government is no longer in "lock step" with the US, something which came through in statements issued after the Gaza Flotilla incident.
A Whitehall observer says for the first time in years, there is a change in the way foreign policy is made. The Foreign Office is being asked to generate ideas, rather than implementing Number 10's directives.
In part all this is a function of the fact that this is a coalition - no one party or individual can define foreign policy - but it also gives Nick Clegg a role that previous deputy prime ministers have not had.
There is a sense here that both Conservative and Liberal Democrat ministers are supportive of the UN. The overseas aid budget has already been ringfenced.
And it seems as though in the forthcoming spending review, an argument will be made that the Foreign Office has lost 10% of its budget in real terms due to the lower value of the pound, and should not face harsh cuts.
But Nick Clegg did call for a radical overhaul of the UN - arguing that a redrawing of the map of power means the current structure is out of date.
Britain's new government wants to see the United Nations Security Council reformed to reflect the emerging powers.
The UK is one of the five permanent members of the UN's most powerful body which can authorise war and make peace, and has the power to veto decisions.
Britain is the fourth-largest contributor to the UN's core budget. Mr Clegg wants to see permanent seats for Brazil, India, Germany and Japan, plus representation for Africa. No mention of Britain giving up its permanent membership in favour of a European seat, observed one UN official.
Mr Clegg returns to Britain after a high profile week - addressing his party conference in Liverpool and standing in for the prime minister abroad.
One US TV interviewer wondered if the experience of Liberal Democrats and Conservatives working together might have lessons for this country, where Democrats and Republicans are at loggerheads.
As Nick Clegg readily acknowledges, ultimately, the coalition will be judged on whether or not its spending cuts work.