Labour's nerves at new leader Ed Miliband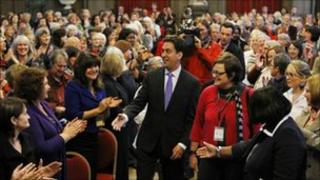 Labour has a new leader who says he represents a new generation.
He is younger than both the prime minister and the deputy PM and believes he can leave the baggage of the Blair/brown era behind.
And Labour is now neck-and-neck in the polls with the Conservatives. Yet, away from the set piece events of the Labour conference in Manchester, the mood among party members is one of trepidation, not jubilation.
Of course those close to Ed Miliband will say that is because they are not being triumphalist or complacent - so it is obvious that champagne corks would not be popped publicly. But even some of his supporters are a little uneasy.
Although he won far more votes than his brother, most of Ed's supporters know the manner of victory was not ideal.
The electoral college system Labour uses to elect its leaders splits the voters into three equal camps - MPs and MEPs; party members; and trade unionists and members of other 'affiliated' organisations such as the Fabian society think tank.
Ed was the second choice of the elected politicians and the membership but clearly the first choice of the trade unionists.
'Red Ed'
Sources in one of the big unions, Unite, say they took the decision early on in the contest that Ed Balls, their favourite candidate, could not beat David Miliband, whom they regarded as too close to Tony Blair, so they backed the other Ed instead.
And not just with cash.
They also worked hard on sympathetic MPs and claim to have ensured that six waverers had voted for Ed Miliband. That may sound like a trivial intervention, but they say this was crucial because under Labour's electoral college the vote of an MP is worth as much the votes of around 600 rank-and-file members.
So with some in the unions saying "it was us wot won it" the new leader's nascent spin machine is trying to put some distance between him and those enthusiastic backers.
He declared this morning that he was "his own man", that strikes should be a last resort and the preferred description of the tabloids - that he is "Red Ed" - is "nonsense." Expect that theme to be amplified during his first leader's speech on Tuesday.
The mood is not entirely celebratory for other reasons, too.
Frankly, many of those who had campaigned for Ed Miliband are shellshocked by the closeness of the result, and fatigued from a hard fought campaign but know they must lift themselves up and, if anything, work even harder. Their underlying enthusiasm will re-surface after some sleep.
But there is another nagging concern.
Defying gravity
While the new leader's supporters stress that his offer to include all the talents of his party - irrespective of whom they supported in the leadership race - is genuine, they are not sure just how many will take up the invitation to join him.
He has spoken to his brother but voices close to both Milibands are saying that David has not made up his mind whether it would help or hinder Ed if he takes a high profile role.
So while publicly Ed Miliband declares that there is plenty of time to sort out the shadow cabinet, there are some personnel issues he would like settled sooner rather than later.
And he won't entirely have a free hand in selecting that shadow cabinet, as the members are chosen by Labour MPs, not the leader.
Where there is optimism is the belief amongst some in Ed's camp that his victory - however narrow, shows he can defy political gravity and overturn received wisdom.
And those involved in the party's polling operation see a political opportunity which Ed can exploit.
They say the coalition has not given "swing" voters a sense of what Britain will look like after the cuts have been delivered and Ed, seen as a fresh start for Labour, is someone who can articulate his vision of a better society.
Downbeat mood
In the short term, though, he will be challenged time and again on what cuts he would support, as he has pledged not to oppose all of them - a stance which was derided by the veteran leftwinger Dennis Skinner behind closed doors at a meeting of Labour's national executive on Sunday morning.
By far the most upbeat were the supporters of the other Ed - Mr Balls hosted a well-attended party last night and he believes the leadership campaign has changed perceptions of him for the better and allowed him to emerge from the shadow of his former boss, Gordon Brown.
Naturally enough by far the most downbeat are David Miliband's supporters. While Ed Miliband says his leadership is not a lurch to the left, many cheerleaders for his defeated brother believe it is.
Their mood, naturally enough, is even more downbeat. Several influential figures are predicting the party will be out of power for not the next five years but the next 10.
There are dire predictions that Labour's recovery in the polls will be reversed.
And for some, they believe their own front rank careers may be over a little sooner than expected - not because Ed has a particular animus towards them, but because their support for the defeated candidate will make it more difficult for them now to be elected to the shadow cabinet.
A couple of them are even willing to bet that Ed's leadership won't last the full five years.
But, in fairness, some of David's backers take a different view, believing that Ed is being underestimated, that he will grow in the job and the party will unite because it cannot afford not to.
And some say his need to "balance" his message back towards the right means that he will be keen to ensure some of David's supporters don't suffer an early return to the backbenches.
Ed Miliband believes he's the man to bring passion and belief back to the core of politics - but he will have to start by imbuing his own party with those qualities.