Labour warned over attacks on coalition deals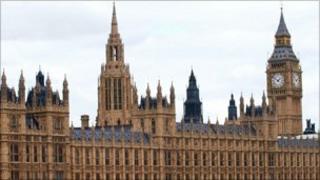 Labour have been warned to be careful about attacking Lib Dem policy compromises, as they too will face more hung parliament deals in future.
Pollster Peter Kellner said it would not "cut the mustard" just to attack Lib Dems for breaking promises.
More smaller parties meant there was a 50% chance that future elections would produce a hung parliament, he said.
Lib Dem Chris Huhne told Labour members his party was "here to stay" and may enter a coalition with them in future.
Hung parliaments
Mr Huhne, Energy and Climate Change Secretary, was the sole Lib Dem face at the Labour conference in Manchester on Monday - where he received a lukewarm welcome from delegates annoyed about his party's coalition deal with the Conservatives.
But YouGov's Peter Kellner told the Guardian fringe meeting that Labour was likely to face similar choices in future - as the political landscape was changing.
Either the Tories or Labour would need a 60-seat lead over the other to get a majority government - something now made more difficult by increased numbers of MPs from other parties, he said.
As half of all elections since 1945 had seen a gap of less than 60: "For the foreseeable future, and even if we keep first-past-the-post, there is a 50% chance that any general election will produce a hung parliament."
He added: "I think we have got to be careful about the criticism we level against those who did go into coalition in order to achieve stable government.
"Let's criticise those policies we think are wrong ... [but] I think the public will not put up with going on and on about 'you said you would do this in March and you are doing this in December'. It makes us feel good but it does not cut any mustard in the outside world.
"If we are going to move into an era where at least half of the time we are going to have minority governments or coalitions then it is inevitable there are going to be compromises."
He said class had become "much less important as a determinant of votes" than it used to be and, according to YouGov analysis, Labour got more middle class votes than working class votes in 2010 for the first time.
"Winning back the core vote simply misses the point. It's not any longer to do with a tribal identity ... the economy and politics have changed utterly and we need to accept that."
'Not liberal'
Shadow work and pensions secretary Yvette Cooper acknowledged there had been changes - saying Labour's vote in coalfield areas had declined.
But she said while many political attitudes had been formed by "scarring experiences" in the 1980s they could be "very quickly reformed" in reaction to traumatic events.
"The coalition government should be worried at that," she said.
While it was "plausible" that the coalition was changing politics and it was good for any democracy to see parties could work together, she said she thought "the defining nature of the coalition has been a Conservative one, not a Liberal one".
"Of course you have to make compromises when you get an election result like the one we got this time, but the problem for trust in politics is the sheer scale of the shift in the Liberal Democrat position."
Mr Huhne told the meeting that since 1970 there had been a trend towards "multi-party politics" in Britain and the Lib Dems were "not about to disappear in a puff of smoke".
"In a two-party system you are never going to get into bed with people on the other side of the House of Commons," he said.
'Here to stay'
But with more parties it was more likely and parties had to "respect where they come from". He said he believed the public liked the idea of two parties coming together for a period to deliver a programme they had agreed on.
Mr Huhne said the "real willpower with the Labour Party" had not been there for a coalition deal with the Lib Dems.
But he said new leader Ed Miliband was "not instinctively the sort of tribal politician who will attempt to pull up the drawbridge".
"Given where we are in British politics, I think that's a good thing," he added.
However Labour members disagreed as he told them: "Three-party politics is here to stay. Sometimes that will mean that there is a coalition between Liberal Democrats and Conservatives, sometimes between Liberal Democrats and Labour and sometimes it may even mean Labour and Conservative."