Diane Abbott to stand for election to shadow cabinet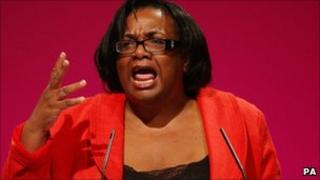 Former Labour leadership contender Diane Abbott has said she will stand for election to the shadow cabinet.
Ms Abbott, who received the fewest votes of the five candidates in the contest, said everyone had to "pull together" for new leader Ed Miliband.
She told the Labour conference he would be a "gifted leader" who would ensure Labour was in the "mainstream centre".
Separately, shadow home secretary Alan Johnson urged the party not to water down its stance on crime and security.
Mr Johnson, who is also standing for the shadow cabinet, said it was hypocritical for the coalition to pledge to restore civil liberties while proposing to cut police numbers and also attacked its cap on non-EU immigration as damaging to the economy.
The former home secretary, who backed David Miliband in the leadership contest, said Labour should be proud of its record on law and order since 1997 and not back away from key decisions it made over the period.
"It is one of our strengths, not one of our weaknesses," he told delegates.
"With a new leader and a new team in place it's time for fresh thinking and new directions. But we must not forget our experience in government as we re-examine our policy in opposition."
'Responsible'
Since being knocked out in the first round of voting in Labour's leadership contest, Hackney MP Ms Abbott has refused to be drawn on whether she would put herself forward for the contest.
But, during the same debate on crime and justice, she told delegates that she would throw her hat into the ring.
She said it was "vital" that all wings of the party unite behind Ed Miliband and should she make it onto Labour's frontbench, she would act "collectively and responsibly".
During the leadership campaign, she criticised all her opponents - including Ed Miliband - of being "up to their necks" in the feuds of the Blair-Brown years.
Nominations for the shadow cabinet elections close on Wednesday, with the results due to be announced early next month.
Under new rules agreed earlier this month, there must be a minimum of six female MPs in Labour's shadow cabinet.
Ms Abbott also told activists Labour should be prepared to work with the coalition if it was serious in trying to reduce the number of people being sent to prison as advocated by Justice Secretary Ken Clarke.
There was "no future" in Labour attacking the coalition from the right on crime issues, she said.