David Miliband rebukes Harman over Iraq applause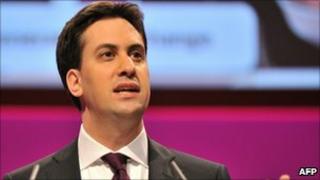 David Miliband has been caught on film rebuking a former cabinet minister for applauding his brother who said Labour was "wrong" to go to war in Iraq.
Ed Miliband, who was not an MP when Iraq was invaded, raised the issue in his first speech as Labour leader.
Former Foreign Secretary David Miliband was filmed turning to Harriet Harman and asking: "You voted for it, why are you clapping?"
­Alistair Darling, Jack Straw and Andy Burnham also did not applaud.
BBC political editor Nick Robinson said the unscripted aside from David Miliband illustrated how he, and other former Labour ministers, "deeply resent" the way in which Ed Miliband used his "rather less than public opposition to the war" to win the party leadership.
Ed Miliband - who beat his brother to the party leadership - has previously said he did not back the decision to go to war in Iraq.
'Tough decision'
He was studying at Harvard University in 2003 when then Prime Minister Tony Blair decided to send British troops into Iraq as part of the US-led invasion to remove Saddam Hussein.
His older brother, and Ms Harman, were part of the government which took what proved to be a deeply divisive decision for the Labour Party.
In his first party conference speech since becoming leader three days ago, in which he stressed that he would lead a "new generation" of Labour MPs, Ed Miliband said: "I criticise nobody faced with making the toughest of decisions and I honour our troops who fought and died there.
"But I do believe that we were wrong. Wrong to take Britain to war and we need to be honest about that.
"Wrong because that war was not a last resort, because we did not build sufficient alliances and because we undermined the United Nations."
He added: "America has drawn a line under Iraq and so must we."
But his brother, who was part of the cabinet that made the decision to go to war, did not clap as he made his comments. When Ms Harman did, Mr Miliband turned to her and was filmed asking why she was clapping.
Asked about the exchange later, Ms Harman told the BBC she was clapping because he was talking about moving on from the legacy of the Iraq war.
'I don't agree'
When asked later about his brother's remark, Ed Miliband said he had not seen it and David had sent him "a very nice message" about his speech.
"Different people have different views about this issue in our party and I am leading this party in a way to win back people's trust and that is what I was talking about in my speech," he said.
Jack Straw, who was Foreign Secretary at the time of the invasion, told the BBC Ed Miliband was not an MP at the time so had "greater freedom to say we didn't get it right, but I don't agree with his view".
But former cabinet minister Tessa Jowell told the BBC that Ms Harman was just joining in applause to be supportive: "It was just a moment, it wasn't a great political bombshell."
One hundred and seventy nine British service personnel were killed in Iraq between 2003 and 2009.
Tony Woodley, joint leader of Unite, said Mr Miliband had addressed the "illegal" war in Iraq, adding: "At long last, we have an acknowledgement that the Iraq war was a stain on the character of our party."
Mr Miliband's position was also welcomed by the Campaign for Nuclear Disarmament.
General secretary Kate Hudson said: "Ed Miliband's speech shows that at long last the party is making a decisive move away from the aggressive pro-war policies pursued by New Labour. Many have been waiting years to hear a Labour leader tell the public the party was wrong to take Britain to war."