Bob Ainsworth clashes with ex-aide over Trident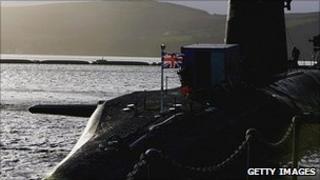 Shadow defence secretary Bob Ainsworth has had a public spat with his former aide over the replacement of Trident nuclear weapons.
Mr Ainsworth accused Eric Joyce of not coming up with "a single idea" when he worked for him at the MoD.
Mr Joyce said it was the "cheapest of cheap shots" and accused Mr Ainsworth of being to the right of the Tories.
He demanded an apology from his former boss after the row at a fringe meeting at Labour's annual conference.
Mr Joyce quit as Mr Ainsworth's Parliamentary Private Secretary last year over the war in Afghanistan.
'Cheap shots'
The MP, who wants to replace Mr Ainsworth as shadow defence secretary, is calling for a full review of Labour's foreign and defence policy - including Afghanistan and Trident - something he says was "personally" blocked by Mr Ainsworth and then foreign secretary David Miliband when Labour was in government.
Attending a fringe meeting with his former boss on the panel, he accused Mr Ainsworth of being "astonishingly conservative" on a number of issues and said that his criticism of the coalition's current defence review was misplaced.
"It's all very well taking pot shots at the Tories, but what have we done?," he asked.
Mr Ainsworth, who is standing down as shadow defence secretary, said: "You've never given me the opportunity to say this before and I'm going to say it.
"I can't remember you coming up with a single idea when we were in government."
Mr Joyce said that was the "cheapest of cheap shots" and called on his former boss to answer the question properly.
'Disgraceful'
Mr Ainsworth hit back at Mr Joyce's claim that the Labour government had stifled debate on Trident, claiming that in 2006, when he was deputy chief whip, "we tried desperately to engender a debate" but Labour MPs were not interested.
Labour committed Britain to push ahead with replacing Trident - with the backing of the Conservatives - but Mr Ainsworth said it had always been Labour's plan to hold a Commons vote before the final, "main gate" decision on funding the system was taken.
Mr Ainsworth also criticised CND, after a member of the anti-nuclear group asked if the three month consultation period in 2006, at the time of the defence white paper, had included the public.
"People like CND have to be prepared to engage with the issue and not just repeat slogans from the 1960s when a consultation process comes up," he told the meeting.
Speaking afterwards to the BBC, Mr Joyce said he wanted an apology from Mr Ainsworth for the attack on his time at the MoD.
"That comment was disgraceful. He was criticising me for being a loyal PPS," he said.
Mr Joyce, who is standing in Labour's shadow cabinet elections, argues that there is no military justification for a like-for-like replacement of Trident and that new Labour leader Ed Miliband is open to the idea of a review.
'Astonishing'
CND reacted angrily to Mr Ainsworth's comments.
General Secretary Kate Hudson said: "It is astonishing that a shadow defence secretary should be so ill-informed about a debate so central to his remit.
"His lack of knowledge has led him to make unfounded criticisms of CND which have sunk to the level of caricature."
She said the organisation was re-sending six documents it had previously submitted to the Ministry of Defence "so he can fully understand CND's analysis and critique of nuclear weapons".
She added: "Labour's new leader Ed Miliband has clearly stated that he believes Trident should be in the Strategic Defence and Security Review. It is time for old prejudices to be put aside."