Ed Miliband defends Iraq war condemnation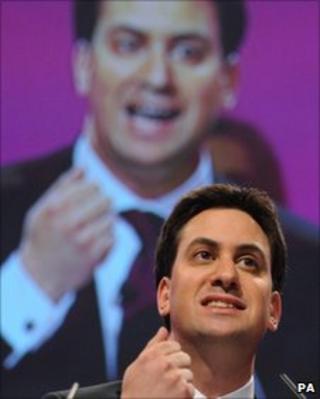 Ed Miliband has defended his decision to condemn the Iraq war during his keynote conference speech.
The new leader told the BBC the war had "led to a fundamental loss of trust" in Labour and it was "right to level with people" about that.
He said he had not been able to speak out more strongly about Iraq while in government because he was "part of a collective responsibility".
Mr Miliband became an MP in 2005, two years after the invasion.
He told the conference on Tuesday: "I criticise nobody faced with making the toughest of decisions and I honour our troops who fought and died there, but I do believe that we were wrong. Wrong to take Britain to war."
His brother and shadow foreign secretary David Miliband was caught on camera rebuking former cabinet colleague Harriet Harman for applauding the remarks, saying: "You voted for it, why are you clapping?"
­Alistair Darling, Jack Straw and Andy Burnham also did not applaud.
'Humility'
Mr Miliband told BBC Radio 4's Today programme: "My view on Iraq at the time was that the weapons inspectors should have been given more time, but frankly that's not the important issue. The important issue is what view do we take now.
"Iraq led to a fundamental loss of trust for us as a government and what's crucial for me is that we show humility this week and we show that we understand the reasons we lost trust.
"For a whole range of reasons it was wrong. We said there would be weapons of mass destruction - there weren't. We didn't build a sufficient alliance with others, and I'm afraid I think we undermined the structures of the UN."
Asked why many of those he worked with while a minister were seemingly not aware of his strong views on the war, he said: "I was in government and part of a collective responsibility, but I think it's right as a political party for us to level with people and indeed with ourselves."
He also said he did not believe his comments would have angered or suprised his brother David: "I don't think he is infuriated at all, because we had lots of leadership debates or hustings during this campaign where we had, and showed we had, different views on Iraq."
During a BBC Breakfast interview it was put to him that it was easy to criticise because he was not in Parliament at the time of the invasion.
"No, I wasn't an MP at the time," he replied. "But you know, in a way, I respect the different decisions people made in 2003. The real issue, though, now, is where do we stand on this issue of Iraq? And I think for us, it's so important we draw a line under it."