Shadow cabinet elections: 49 MPs enter ballot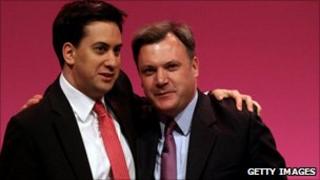 Defeated leadership candidates Andy Burnham, Ed Balls and Diane Abbott are among 49 MPs standing for elections to Labour's shadow cabinet.
Former cabinet ministers Alan Johnson, Tessa Jowell and Yvette Cooper have also entered the ballot for 19 posts - elected by Labour MPs.
Rosie Winterton is the only name entered for the ballot for chief whip.
Earlier, David Miliband said he would return to the back benches, having lost the leadership to his brother Ed.
The former foreign secretary told the BBC his brother needed a "clean field" to lead as he saw fit.
Shadow chancellor role
Although MPs elect the shadow cabinet, the new party leader will decide which jobs the successful candidates get.
Commentators will be watching for signs of the team's likely future direction, in particular what happens to key supporters of Ed Miliband - such as his leadership campaign manager Sadiq Khan - and also those who backed David Miliband.
The post of shadow chancellor will be most closely watched - Ed Balls is seen as a key contender and has criticised former chancellor Alistair Darling's plan to halve the deficit within four years. His wife Yvette Cooper has also been linked to the role.
And there is speculation that Harriet Harman, who is already in the shadow cabinet as deputy leader, could be offered a job shadowing one of the big portfolios.
Among those who have entered their names into the ballot are former cabinet ministers: Hilary Benn, Ben Bradshaw, Liam Byrne, John Denham, Peter Hain, Stephen Timms, Shaun Woodward and Jim Murphy.
Eric Joyce - who quit as an aide to former Defence Secretary Bob Ainsworth last year in a row over strategy in Afghanistan - is also standing, as is Caroline Flint, who resigned as Europe minister last year and accused Gordon Brown of treating women like "window dressing".
'Fresh start'
One face from the previous government who will not be part of the new team is the current chief whip, Nick Brown.
He had intended to stand again but decided against entering his name into the separate chief whip ballot after Ed Miliband told him he wanted a "fresh start" for his leadership.
BBC political correspondent Iain Watson said he understood some of David Miliband's supporters had lobbied his brother to get rid of Mr Brown - who is seen as being close to former Prime Minister Gordon Brown and an opponent of David Miliband.
Labour's shadow cabinet is elected by MPs when the party is in opposition, with the elections held every two years. The leader and deputy leader are elected separately. The chief whip is also elected separately to serve a full parliament.
Nominations for the shadow cabinet elections closed at 1700 BST and voting will take place between 4 and 7 October.
Earlier this month Labour MPs rejected a move to change the rules to allow the party leader to choose who serves on the shadow cabinet, but elections were limited to every two years - before 1997 it used to be every year.
Under new rules agreed earlier this month, there must be a minimum of six female MPs in Labour's shadow cabinet.
Earlier Mr Miliband suggested his brother could return to the shadow cabinet in future: "I am very clear that, as leader of this party, my door is always open for him to serve in the future, either in opposition or back in government."
Here is the full list of MPs standing for election to the shadow cabinet:
Diane Abbott
Douglas Alexander
Ed Balls
Hilary Benn
Roberta Blackman-Woods
Ben Bradshaw
Kevin Brennan
Chris Bryant
Andy Burnham
Liam Byrne
Vernon Coaker
Yvette Cooper
Mary Creagh
Wayne David
John Denham
Angela Eagle
Maria Eagle
Rob Flello
Caroline Flint
Mike Gapes
Barry Gardiner
Helen Goodman
Peter Hain
David Hanson
Tom Harris
John Healey
Meg Hillier
Huw Irranca-Davies
Kevan Jones
Alan Johnson
Tessa Jowell
Eric Joyce
Barbara Keeley
Sadiq Khan
David Lammy
Chris Leslie
Ivan Lewis
Ian Lucas
Fiona Mactaggart
Pat McFadden
Ann McKechin
Alun Michael
Jim Murphy
Gareth Thomas
Emily Thornberry
Stephen Timms
Stephen Twigg
Shaun Woodward
Iain Wright
Rosie Winterton - standing in separate ballot for chief whip