Defence budget chaotic, says Chancellor George Osborne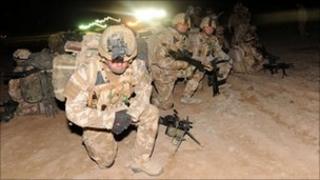 Chancellor George Osborne has described the UK's defence budget as "chaotic and disorganised".
In a Daily Telegraph interview, Mr Osborne blames the previous Labour government for what he calls the "horrendous" situation at the MoD.
The remarks follow a disagreement between Prime Minister David Cameron and Defence Secretary Liam Fox over plans to cut defence spending.
Shadow Defence Minister Kevan Jones has backed Labour's record on defence.
'Contract bound'
Mr Osborne said defence was the "most chaotic, most disorganised, most over-committed" budget he had seen.
He told the Telegraph: "We are going to have a bunch of kit that makes us extremely well prepared to fight the Russians on the north German plain. That's not a war we are likely to face."
The chancellor said there was little the coalition could do about the situation.
"We are bound into contracts and that's just a fact of life," he said.
BBC political correspondent Mike Sergeant says the chancellor has entered this increasingly tense debate, but at the same time making it clear he has a good relationship with Dr Fox.
Negotiations on defence cuts could now go to the wire ahead of the spending review later this month, our correspondent adds.
'On the mend'
Labour hit back at Mr Osborne's accusation, with Mr Jones pointing out that the previous government was fighting two wars - in Iraq and Afghanistan.
The conflicts "focused ministers [on] not wanting to make decisions that looked like they were being either anti-military or anti the MoD", he said.
He added that what he called the "three-legged stool" of politicians, civil servants and the military created a "unique process of making decisions" on defence.
Mr Jones went on to say that the Conservatives were too focused on achieving short-term spending cuts in the department.
"What we're not seeing now is a Strategic Defence Review. What we're seeing is a short-term spending cuts review, and I think the Conservatives are in danger of doing what they did in the 1990s; taking some very short-term decisions which will have implications long-term."
In a letter leaked to the Telegraph at the beginning of the week, Dr Fox warned the prime minister that "draconian cuts" could have "grave consequences".
In that letter, he said: "Party, media, military and the international reaction will be brutal if we do not recognise the dangers and continue to push for such draconian cuts at a time when we are at war."
Mr Cameron said his defence secretary's fears were "unfounded".
He insisted that he and Dr Fox agreed there would be "well-funded... strong armed forces".
In the Telegraph interview, the chancellor said the British economy was "on the mend".
"The steps we have taken have provided a platform for stable sustainable growth and that is a huge achievement," he said.
Dr Fox also said a cabinet row about another sensitive area - welfare reform - had been settled.
Mr Osborne said people would be "impressed" by the package he has now agreed with Work and Pensions Secretary Iain Duncan Smith.
Welfare reform is is likely to be a major focus of debate during the Conservative Party conference which starts on Sunday.