Prison factory plan 'to cut reoffending', says minister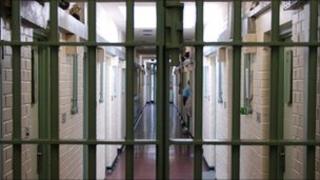 Private firms could be encouraged to set up factories in prisons, under government proposals.
Prisons minister Crispin Blunt says he wants "tens of thousands" of prisoners to take "meaningful" work to help cut reoffending rates.
Part of their wages would go to their victims, their families and upkeep.
But it must be handled carefully to avoid it looking as if "legitimate" jobs were being stolen, he told a Tory conference fringe meeting.
The coalition government is committed to cutting the prison population through fewer shorter sentences and improving the rehabilitation of offenders through better training.
The Ministry of Justice plans to enact dormant legislation, the 1996 Prisons Earnings Act, which would allow prisoners to be paid more than the average of £8 a week those that work currently receive but for deductions to be made from their wages.
At the moment they are not allowed to pay taxes and are paid "cash in hand".
Mr Blunt said one idea his officials were exploring was for a portion of their increased wages to be paid into a "pot" that they could gain access to if they stay out of trouble for two years after leaving prison.
He said that although thousands of inmates in British jails worked, in jobs ranging from printing to making furniture, far too many did nothing at all.
"The public don't want prisoners lying about being idle," he told the meeting, adding that getting into the habit of working was vital if they were going to get jobs in the outside world.
"The aim has got to be to maximise the opportunities for prisoners, having got themselves clean and got themselves some training, to have the best possible chance of going straight when they come out.
"And to get them into a decent hard working environment in prison where we maximise whatever return we can get, through whatever schemes we can get into prison, either through the voluntary sector, or preferably through businesses, to actually make effective use of their time while they are in prison has got to be a good thing."
'Stealing jobs'
He said he wanted Britain to be a "global leader" in inviting businesses to come into prisons to take advantage of the "effectively free labour".
"Many other countries have tried this and getting businesses to work in partnership in prisons, in prison and with prison labour, and to actually be able to make an economic return is extremely difficult," he told the Howard League for Penal Reform meeting in Birmingham.
But he also said that, in the current climate, it was important that the government's plans were not seen as "stealing legitimate people's jobs", suggesting prisoners could be put to work making products which are currently imported from outside the EU.
His plans received the backing of the Howard League for Penal Reform, which argues that the coalition should go further by allowing prisoners to pay taxes to the state.
Under the current system, prisoners were mostly paid "cash in hand", said Howard League director Frances Crook, which she said only taught them that work was "badly paid, boring, it's OK to fiddle the system, crime is better and it pays more".
She said the Prison Service had blocked efforts to get prisoners in a pilot scheme run by the charity to work and pay taxes, as it would mean they would be entitled to employment rights.
"I am so pleased we are getting somewhere at last," Mrs Crook told the meeting.
She said prisons were not set up to be places of employment, apart from in gardening, laundry and catering, which is why it was important to get private firms on board.