Ministers urged to seek child benefit cut alternatives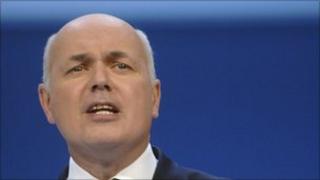 A think tank founded by welfare secretary Iain Duncan Smith has urged the government to explore "alternative options" to axing child benefit for high earners.
The Centre for Social Justice (CSJ) said it understood the reasons for the move but was "concerned" by it.
CSJ chairman Samantha Callan told a Tory fringe meeting alternatives should be explored before it came into effect.
Chancellor George Osborne says the move - due in 2013 - will save £1bn a year.
Under the changes, any couples where one parent earns about £44,000 - roughly the 40% tax level - and above will be affected.
'Latte money'
At a Centre for Social Justice fringe meeting in Birmingham, one Conservative member said that for people like him, who just qualify for the top rate of tax, child benefit can mean the difference between going into debt at the end of the month and "getting by".
It would particularly hit those families where the mother chooses to stay at home and bring up the children - undermining the coalition's aim to be the "most family friendly government" ever, he added.
Responding to concerns about the benefit cut, Ms Callan said "the axe has to fall somewhere" and pointed out that "an awful lot of people earn an awful lot more than 44,000".
"We think it is probably appropriate but we want to see other options looked at. It won't happen for two years and there is time to look at other alternatives to it," she told the meeting.
She added that she had heard child benefit "referred to by wealthy mothers as 'my latte money on the school run'."
'Target audience'
CSJ executive director Gavin Poole said: "We understand when the chancellor says it is a very simple, and quick and dirty way, of trying to pay the debt off."
But he added: "We would say you have got two years to change the system."
He said there were costs associated with axing the benefit which could "negate" the £1bn it would save and the wholesale shake up the benefits system being planned by Mr Duncan Smith might provide an opportunity "to revisit this question".
He stressed that the CSJ had not seen the detail of Mr Osborne's proposals but it was clear that it would not affect their "main target audience", which is "lower socio-economic groups".
Mr Duncan Smith, who has earned praise from across the political spectrum for his work on social justice, began the meeting by explaining how one of the biggest factor in family breakdown was personal debt.
He said: "We have to get ourselves off the idea that the UK's economy is dependent upon everybody borrowing as much as they can and spending as fast they can. That has been the road to ruin for very large numbers of people."
The work and pensions secretary had to leave for another fringe meeting before the question and answer session, which was when the child benefit plans were debated.