Local authorities 'should keep council house rent'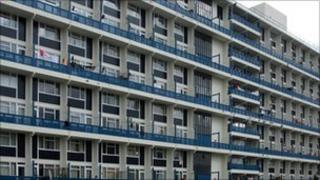 Local authorities in England should keep council house rents instead of having them gathered up by Whitehall, Housing Minister Grant Shapps has said.
New government proposals will see councils keep all rent and sales receipts they collect.
But in return some councils will take on additional housing debt.
Mr Shapps said the system was "outdated and no longer fit for purpose". More details are expected in the coming spending review.
The Housing Revenue Account subsidy system currently requires councils to pay council house rents and the majority of receipts from any land or home sales to central government.
Ministers then decide how best to redistribute the money back to councils.
Mr Shapps said: "For far too long, councils have been left hamstrung in their efforts to meet the housing needs of their residents by a council house finance system that is outdated and no longer fit for purpose.
"The Housing Revenue Account subsidy is in urgent need of reform.
"Subject to the Comprehensive Spending Review (CSR), we will offer councils the opportunity to keep the rents they collect and the receipts from any house or land sales.
"This is a key step to transfer powers to councils and communities, so they are free to improve their local services in a way that best meets the needs of local people."
A spokeswoman for the Department for Communities and Local Government said: "In return for this greater freedom, some councils would take on additional housing debt - but no council will take on a level of debt that is not sustainable for the long term."
Details of the new system will be announced as part of the CSR on 20 October and will be introduced as part of the Decentralisation and Localism Bill.
This is due to come before Parliament during the autumn of this year.