Clegg 'fully aware' of child benefit cuts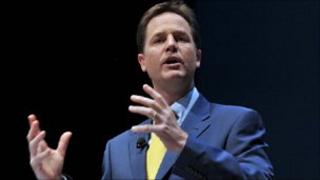 Nick Clegg was "fully aware" of the chancellor's announcement that child benefit was to be axed for higher rate tax payers, his office said.
The deputy PM, whose party voted to keep child benefit universal, had appeared unaware of the news when asked after a BBC interview in Brussels.
Chancellor George Osborne had announced it earlier in a series of television and radio interviews.
Lib Dem leader Mr Clegg, who is in Brussels at an Asia-Europe meeting, was interviewed by BBC Look North on Monday morning. After the interview ended, he was asked to comment on Mr Osborne's announcement.
Mr Clegg first said that he had not heard the chancellor saying it, and then that he had been travelling.
Asked again if he would comment he replied that he needed to "find out exactly what's been said".
Asked for his reaction, given that his own party had voted to preserve all universal benefits at their conference last month, Mr Clegg said he was not going to comment.
Mr Osborne announced that child benefit was to be scrapped for people paying the 40% or 50% tax rates from 2013 - as part of measures aimed at reducing the UK's record budget deficit.
Labour has pointed out that both Mr Clegg and Conservative leader David Cameron suggested during the election campaign that child benefit would not be means-tested or scrapped.
A spokesman for Mr Clegg told the BBC: "Nick Clegg was fully aware of the announcement on child benefit made in an interview with the chancellor this morning."
He added that "Mr Clegg had had sight of his coalition partners' speeches and announcements ahead of the Conservative party conference" and said he and other senior Lib Dem ministers were involved in all big policy decisions.