Voting begins in shadow cabinet election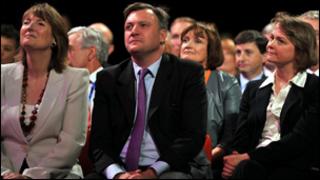 Voting has opened in Labour's shadow cabinet elections amid much speculation over key roles.
Labour MPs vote for who gets the 19 places, but it will be leader Ed Miliband who will decide who gets which job.
Ed Balls and his wife Yvette Cooper are thought to be contenders for the key role of shadow chancellor.
Forty-nine MPs entered the ballot, which closes on Thursday. Winners are due to be named that evening.
Deputy leader Harriet Harman and chief whip Rosie Winterton already have their places on Mr Miliband's top team.
Spending review
Former cabinet ministers Alistair Darling and Jack Straw are stepping down from the front bench, Lord Adonis and Lord Mandelson did so in the wake of Labour's election defeat and former Foreign Secretary David Miliband is also returning to the back benches, having lost the party leadership to his brother.
It had been thought he would be offered the role of shadow chancellor - a vital post as Labour responds to the coalition government's comprehensive spending review on 20 October.
Mr Balls, who was Gordon Brown's adviser at the Treasury when he was chancellor, is known to be interested in the role but Ms Cooper - a former chief secretary to the Treasury - has also been suggested as a candidate.
And there has been speculation that Ms Harman may be offered an additional role following her stint as acting leader.
The departure of some big names means several top jobs are up for grabs, and a mixture of senior figures and backbench MPs have entered the ballot.
The remaining leadership contenders - former health secretary Andy Burnham and backbencher Diane Abbott are among them, as is the former home secretary Alan Johnson.
Under rules agreed by Labour MPs last month, at least six places on the shadow cabinet will go to women.
They rejected a move to allow the party leader to choose who serves on the shadow cabinet when Labour is in opposition, but elections were limited to every two years - before 1997 it used to be every year.
The chief whip is elected separately but Mr Miliband effectively got his choice - Ms Winterton - last week when he asked the incumbent, Nick Brown, to step aside.