Good manners, not laws, key to web privacy - minister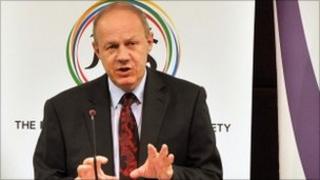 Home Office minister Damian Green has said it was not up to government to stop people invading the privacy of others by posting information, photos or films of them online.
"We, as a society, need to work out what the rules of the game are. It could be down to good manners," he told a Tory conference fringe event.
Mr Green said he wanted the state to intrude less into people's lives.
And it was up to individuals if they wanted to invade their own privacy.
He said: "Technology and attitude changes mean we are becoming a society, we are becoming a world, where people voluntarily strip themselves of personal privacy."
He added: "Privacy has become a bit distorted in what is a wider societal change. I am being insistent in saying I want the state to intrude less in people's lives then the logical position for me is that, OK, if you want to put your entire life on up on YouTube or on Facebook or whatever, that's your choice."
Speaking afterwards about people who uploaded material featuring others on to sites such as YouTube, he told BBC News: "Now that we all have the ability to intrude on each other's privacy, we as a society need to work out what the rules of the game are.
"It could be down to good manners. It is not for government to legislate. It is about us all behaving properly."
The immigration minister told the meeting that he was not a recent convert to civil liberties and had defied a three line whip to vote against ID cards when the Conservatives were in favour of them.
He praised new Labour leader Ed Miliband for his change of tone on civil liberties, but said it was "genuine pity" the party had still not rejoined the debate.
He outlined what the government planned to do in its forthcoming Freedom Bill, with further curbs on government databases, including the DNA database.
In his own area of immigration, he said the length of time data collected by the government's new e-borders scheme will be held would be cut from the current 10 years.
Responding to a question from a member of the NO2ID campaign, he said he would pass on privacy concerns about the NHS medical records database and Automated Number Plate Recognition system, which was described as "mass surveillance", to the Deputy Prime Minister Nick Clegg.