Lib Dems are just like Leyton Orient, says Lord Sugar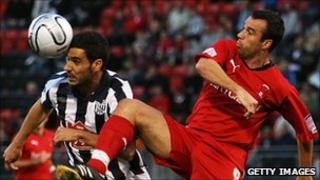 Lord Sugar has compared the Liberal Democrats being in government to Leyton Orient playing in the Champions League.
The Labour peer and businessman told the BBC that the Lib Dems had not expected to be in power and the coalition government was a "mess".
It was "unbelievable" that Lib Dem leader Nick Clegg was now attending international summits like last month's UN anti-poverty meeting, he said.
Leyton Orient are currently lying 22nd in the First Division.
The new series of The Apprentice, Lord Sugar's show, starts on Wednesday.
The show, originally intended to be broadcast earlier this year, was delayed until after the general election as a result of Lord Sugar's political affiliation.
Speaking on Tuesday, Lord Sugar suggested the Lib Dems had been propelled into power by "promising the world" during the election campaign and "creating confusion" among the public.
'In jest'
"You have got these two people, [Vince] Cable and [Nick] Clegg, who have landed on their feet," he told BBC Radio 5 live's Victoria Derbyshire show.
"And they feel like Leyton Orient suddenly being planted in the Champions League."
East London club Leyton Orient are currently struggling at the bottom of the First Division, with nine points from 10 games, having finished 17th last season.
Leyton Orient said they were not offended by Lord Sugar's comments.
"He said it in jest," said the club's press officer Leo Tyrie. "We get used to it when you are in the position we have been for most of our history."
Lord Sugar, who used to be owner of Tottenham Hotspur, added: "You have got [Nick] Clegg, a bloke who used to get three pars in the Observer occasionally as leader of the Liberal party is now out there somewhere hosting the World Congress or something like that.
"Unbelievable, absolutely unbelievable."
'Arguing like crazy'
While the Tories and Lib Dems used to "argue like crazy" in opposition, they were now having to work together and he was not impressed by what he had seen so far, he said.
"I personally think it is not going to work. They are going to need to sort themselves out and sing off the same hymn sheet."
Lord Sugar was ennobled by Gordon Brown and given the role of enterprise tsar, but he suggested that he had been "fired" from the advisory post by David Cameron.
Asked about Labour's new leader, he said many in the party had been "surprised" by Ed Miliband's victory and although he had never met him, he found him "young and enthusiastic".