Prince William carries out rescue during first shift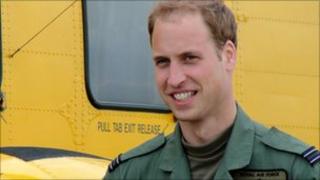 Prince William has carried out his first rescue as a fully operational search and rescue pilot.
He rescued a seriously ill man who was one of the crew working on a gas rig in Morecambe Bay.
The prince was the co-pilot of the four man crew of an RAF Sea King helicopter, called out from RAF Valley to help transport the man to hospital.
The rescue occurred on Saturday, during the prince's first full operational shift as a search and rescue pilot.
A spokesman for the prince said: "Prince William is pleased finally to be able to contribute to the life-saving work of the Search and Rescue Force.
"He is proud, after two years of intense training, to be able to serve in one of Britain's foremost emergency services."
As part of his training he spent six months at RAF Valley on Anglesey in North Wales.
He will now spend the next three years at the base flying rescue missions, potentially all over the UK.