Sir Menzies Campbell sees child benefit 'adjustments'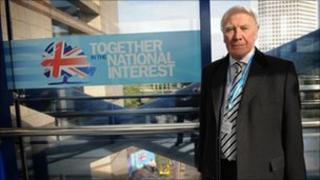 Former Liberal Democrat leader Sir Menzies Campbell has predicted "adjustments" will be made to plans to scrap child benefit payments for higher rate taxpayers to ensure they were seen as fair.
Sir Menzies also told the BBC there was Lib Dem scepticism over Tory plans to recognise marriage in the tax system.
He said the coalition had come together out of "necessity" and had "bet the farm" on getting the economy right.
But Lib Dem rules meant "coalition candidates" at elections were unlikely.
Sir Menzies, who was in Birmingham to speak at a Conservative conference fringe meeting, warned ministers not to take to the "trenches" over the child benefit plans.
Chancellor George Osborne on Monday announced plans to scrap payment of child benefit from 2013 to any couples when one of them was a higher rate taxpayer.
Prime Minister David Cameron spent most of Tuesday defending the plan against accusations that it was unfair.
'Reasonable way'
Sir Menzies said: "If we are asking people on benefits to take what may be quite significant hits when some of the announcements are made on 20 October, then we have to look at the whole system of benefits so as to satisfy ourselves that we are trying to satisfy the principle of fairness and of equal responsibility.
"I have got absolutely no doubt that by the time this policy is implemented then it will justify the description that it is "fair".
"By that stage I am perfectly confident that we will have something which will be fair, which people will accept, which they will regard as a reasonable way of seeking to eliminate yet another part of the deficit.
"I should be very surprised if there weren't some adjustments by 2013. That is what government should be about - putting yourself in the trenches and then defending to the last round is not in any way conducive to good government."
Speaking at the same fringe meeting, the Conservative MP Nick Boles called for "coalition candidates" to stand at the next election.
He said Lib Dem and Conservatives should not be opposing each other at the polls in certain seats.
Sir Menzies said it was too soon to say if it would become a "coalition of choice", but the party's constitution prevented a leader decreeing that candidates stand aside in favour of candidates from other parties.