Cooper tops shadow cabinet vote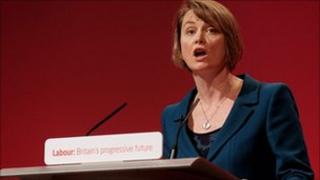 Yvette Cooper has come top of Labour's vote for its new shadow cabinet.
The former work and pensions secretary's husband Ed Balls came third, with ex-housing minister John Healey in second place.
Ex-cabinet ministers Peter Hain, Shaun Woodward and Ben Bradshaw failed to win a place on leader Ed Miliband's team.
Diane Abbott, one of the challengers in the recent leadership race, was not one of the eight female candidates returned by Labour MPs.
Among the 19 people chosen, from a field of 49, were former cabinet ministers Alan Johnson, Hilary Benn, Andy Burnham, Douglas Alexander, John Denham, Jim Murphy and Liam Byrne.
It is up to Mr Miliband to decide which of the successful candidates is given which job. Labour said there would be no announcements until at least Friday lunchtime.
'Really good people'
Reacting to the ballot on the social networking site Twitter, Mr Balls wrote of himself and his wife: "We both v happy with the results."
Mr Murphy, who ran the failed leadership campaign of Mr Miliband's brother David, said he was "delighted" to be on the top team.
He added: "Of course it is sad there are some really good people who didn't win but I look forward to working with Ed Miliband and all the new team in taking on the Tories and Lib Dems".
Under Labour rules, MPs had to elect at least six female colleagues to the shadow cabinet, but opted for eight in total.
Former Europe minister Caroline Flint and sisters Angela and Maria Eagle won places, as did Meg Hillier and Ann McKechin.
Ex-Cabinet Office minister and culture secretary Tessa Jowell retains her top-team status, while Mary Creagh enters the shadow cabinet despite never having served on the front bench before.
Maria Eagle told BBC News: "I think the fact that eight women have been elected shows that the Parliamentary Labour Party want a balance in terms of gender.
"They've noticed that the government is gender-blind, it's hitting women very hard."
There are another two women MPs and one peer who already have a place in the shadow cabinet, bringing the total to 11.
Harriet Harman, elected deputy party leader in 2007, is included automatically, while chief whip Rosie Winterton was elected unopposed to the position last week. Baroness Royall, leader of the opposition in the House of Lords, also retains her place.
Some 258 Labour MPs were eligible to vote in the shadow cabinet contest. Ms Cooper - who is being lined up for the shadow chancellor's job by many commentators - was picked by 232 of them. Mr Healey got 192 votes and Mr Balls 179.
Angela Eagle came joint fourth with Mr Burnham, on 165 votes, followed by Mr Johnson, who attracted the support of 163 MPs.
Ten of the 19 candidates backed David Miliband in the leadership contest, while five supported Ed Miliband, three Mr Balls and one Mr Burnham.
The first significant outing for the new shadow cabinet team will come next Wednesday, when Mr Miliband takes on David Cameron at prime minister's questions for the first time.
Labour only elects its top team when in opposition. The last such contest took place in 1996.
The full list of successful candidates is:
Douglas Alexander - 160 votes
Ed Balls - 179 votes
Hilary Benn - 128 votes
Andy Burnham - 165 votes
Liam Byrne - 100 votes
Yvette Cooper - 232 votes
Mary Creagh - 119 votes
John Denham - 129 votes
Angela Eagle - 165 votes
Maria Eagle - 107 votes
Caroline Flint - 139 votes
John Healey - 192 votes
Meg Hillier - 106 votes
Alan Johnson - 163 votes
Tessa Jowell - 152 votes
Sadiq Khan - 128 votes
Ivan Lewis - 104 votes
Ann McKechin - 117 votes
Jim Murphy - 160 votes