Straw annoyed Mandelson noted 'private conversations'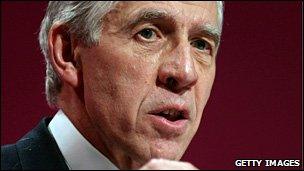 Jack Straw has criticised his former cabinet colleague Lord Mandelson for taking notes of "private conversations" and sticking them in his memoirs.
Mr Straw, who leaves Labour's front bench on Thursday, was annoyed remarks were published just a few months later.
Other senior Labour figures criticised the timing of The Third Man, published during Labour's leadership contest, shortly after it lost power.
The book details disputes between key figures during Labour's time in power.
Mr Straw, a former home secretary, foreign secretary and justice secretary is quitting front line politics on Thursday as a new shadow cabinet is elected.
Asked if he would be publishing any memoirs, he told BBC Radio 5 live: "They are not written yet and by the way I have never kept a diary, I have got lots of records but no diaries.
"I'm slightly old fashioned. I profoundly disagree with the approach that Peter Mandelson has taken, which was to record entirely confidential private conversations and then to stick them in his diary just a couple of months after that.
"Because if he had ever said to us: I'm going to write this down, I'm going to publish it a couple of weeks after an election, one would have said: Thanks very much Peter, there's the door."
He added that he intended to tell Lord Mandelson to his face but said he had since "disappeared ... from my path".
Lord Mandelson came under fire from several Labour politicians when his book was serialised in the Times in July - shortly after Labour lost power in the general election and while it was electing a new leader.
The Third Man detailed disputes between key Labour figures, quoting Tony Blair as describing Gordon Brown as "mad, bad, dangerous and beyond redemption".
Former Foreign Secretary David Miliband called the book "destructive", his brother Ed - who beat him to the leadership - said it had "offended just about everyone" while a third leadership contender, Andy Burnham advised Lord Mandelson it was "time to leave".
Former Labour leader Lord Kinnock said it must have been "written at breakneck, indeed a rate of genius velocity, or was being written many, many, many months before the general election" and queried Lord Mandelson's "extraordinary gift of perfect recall".
However Lord Mandelson has defended the book saying it showed a "very good and flattering picture of not just Gordon Brown and Tony Blair but others like me who helped them rescue the Labour Party from what it was in the 1980s."
Interviewed about the backlash in July he told BBC Breakfast he had thought it better to get the book out quickly, rather than in a few years when the party would be gearing up for a general election.
He said all writers had to make a decision about whether to be "frank" and revealing, and whether to be topical.
"Should you wait for two years or more, by which time everyone's lost interest in what you have to say but also when the party is gearing up for the next general election and doesn't want to be dragged back to the past?"
"In my view better to get it out when it's fresh, get it out when you can contribute to the experiences that you have described in your book and can contribute to a debate on the Labour Party as it is considering its future."
Related Internet Links
The BBC is not responsible for the content of external sites.