Profile: Shadow foreign secretary Yvette Cooper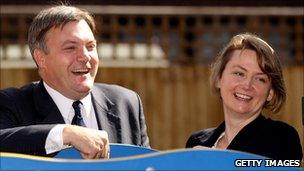 Yvette Cooper, the new shadow foreign secretary and former work and pensions secretary, is one of the most powerful women in British politics, even though she chose not to run for the Labour leadership.
Instead, her explanation was that "I could be working for another 25 years and am only likely to be reading bedtime stories for another two or three years". She has three young children, and has denied that she had made a pact with her husband, Ed Balls, who did run for Labour leader.
Mr Balls was beaten into third place by the Miliband brothers for the leadership, and then by his wife in the shadow cabinet election.
She won the votes of 232 out of 258 Labour MPs, 40 votes ahead of the second-placed candidate and more than 50 votes ahead of her husband.
Still only 41, Ms Cooper was not the sort of child who always aimed to be prime minister. What she really wanted was to be a tap-dancer or an actress.
Born in Inverness, she was brought up in Hampshire. Her father, Tony, was general secretary of a professional trade union and her mother, a maths teacher, came from a mining family. Both were solidly Labour. They sent the young Yvette to state schools, where she was known for being fearsomely bright.
Roger Clark, a family friend, taught her mathematics at Alton College, where she started off doing six A-level subjects.
He said: "She was a formidable intellect and it's no surprise to me or anyone else around here that she's done as well as she has.
"I was teaching her maths once and I employed a circular argument deliberately and she was the only one who spotted it."
He added: "She was also involved in other areas of the college. She was a fantastic Juliet in Romeo and Juliet. There were real tears in the audience."
From there, Ms Cooper managed to win a place to read philosophy, politics and economics at Balliol College, Oxford.
She graduated with a first-class degree, and then - like her future husband - spent a year at Harvard as a Kennedy scholar. She worked on Bill Clinton's presidential campaign in Arkansas in 1992 before returning to Britain to join the office of then Labour leader John Smith.
It was there - when she was sharing a flat with another young Labour researcher, who has now become her boss, Labour leader Ed Miliband - that Harriet Harman, nowadays deputy leader of the Labour Party, heard about her.
Ms Harman recalled: "She was very much a Labour person but also a very clever economist and I was very much looking forward to meeting her. And then this slip of a girl raced up at party conference and said 'I'm Yvette' and when I thought of all the experience she had had, it seemed to be impossible that someone so young was that person."
Although she looked about 12, Ms Cooper turned out to be an invaluable member of Harman's team. She was the architect of the New Deal policy, Labour's plan to help the unemployed back to work.
While Ms Cooper was working for Ms Harman, she contracted ME, otherwise known as chronic fatigue syndrome. For a year, she was completely wiped out. She had to spend another year working only part-time and the fatigue took three years in all to lift.
The experience drove her not to waste precious time, but to find a parliamentary seat. In April 1997, Ms Cooper won the Labour candidacy for the safe Yorkshire seat of Pontefract and Castleford.
Within a few weeks, she was in Parliament, part of Tony Blair's New Labour landslide. And it took only a couple of years before she was made a junior health minister.
At first she had a bit of a reputation for being indecisive. Her old friend Dan Corry, a former adviser of the prime minister, puts it thus: "She had the flaw of understanding the pros and cons so much, wanting to understand all the issues. You have to back a hunch, and she certainly learned how to do that and was impressive."
She has also been accused of being lazy and underbriefed, a charge Ms Harman fiercely denies: "That makes me feel outraged. It is the sort of thing that people say about women with young children. She hasn't got a lazy bone in her body. She is always interested, always concerned, always focused."
Ms Cooper married Ed Balls in 1998 and they soon had three children. She was the first minister to take maternity leave.
When she was housing minister, she brought in the much-derided home information packs ("Hips") that obliged house vendors to supply buyers with a whole range of documents. Ruth Kelly, as Communities Secretary, was forced to push through the legislation, against her better judgment.
When the government finally decided to back down on Hips, it was Ms Kelly, not Ms Cooper, who had to take the blame. That left bad blood between the two.
Matthew Parris, a columnist for The Times and former Conservative MP, is not a natural Cooper fan. At first, he "found her pretty irritating. There was something cold and zombie-like in which she used the apparatchik-speak language of New Labour and never seemed to engage with people.
"But I've noticed her changing over the last couple of years. She has relaxed. She is getting warmer and funnier."
There are still rumours that Ms Cooper told Ed Miliband she did not want the shadow chancellorship, presumably because it would make life with her husband too tricky.
So how will she take to being shadow foreign secretary? Former Foreign Secretary Jack Straw thinks "she'll be able to hack this job, she is intelligent and warm and has a decent personality. I think she'll be able to handle it pretty well."
Will she in the end out-do her husband?
Mr Parris does not rule it out: "For the moment she is going to be the moon to Ed Balls' sun, but I don't think that will be the case forever. I rather wonder if there might not be an eclipse and she will wax more brightly."
Related Internet Links
The BBC is not responsible for the content of external sites.