Lib Dems 'must reflect' over fees pledge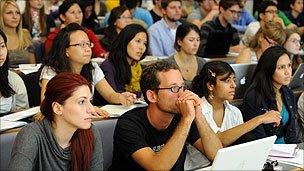 All Lib Dem MPs must "reflect" on the arguments for raising university fees - having pledged not to do so before the election, their deputy leader has said.
Simon Hughes told the BBC every MP would have to "make their own choice".
He said there was time to improve Lord Browne's proposal to end the annual £3,290 cap on tuition fees in England.
Former leader Sir Menzies Campbell has promised to vote against the coalition government if it tries to implement Lord Browne's plan.
Before May's general election, the Lib Dems had pledged to phase out fees over six years. Their coalition deal with the Tories allowed MPs to abstain from voting on the issue.
But Lib Dem Business Secretary Vince Cable has said the party's previous pledge is "no longer feasible" and Lord Browne's proposals are "on the right lines", suggesting students might expect to pay fees of about £7,000.
Mr Hughes told BBC Radio 4's Today programme the report was only just out and all MPs had to "reflect" on the arguments, given that they had gone into the election campaign promising not to increase tuition fees.
"Each individual member of our parliamentary party and the parliamentary party as a whole has to both weigh up the circumstances in the light of the Browne report and in the light of Vince Cable's statement and listen to the debate around the country before we make our decision."
Each MP would have to "make their own choice", he said, adding: "We have to seek to honour the pledges we gave to our constituents. The job now is to take the starting point of the Browne report, to seek to improve the proposals to make them even more consistent with the policy we fought the election on and the views we have held together."
Mr Hughes said there were still several weeks of discussion ahead - for example, about the level of any new cap on fees.
"Vince was anticipating that there may have to be a change of policy but we are not there yet - the policy of the Liberal Democrats as of today is to still make sure we don't increase tuition fees and that's where we start from."
Asked why he would not simply agree to abstain on the matter - as outlined in the coalition agreement - Mr Hughes said it was "not quite as simple as that": "Everybody understands that the coalition agreement does allow for people to abstain and there may well be colleagues who abstain but we have only had the report yesterday."
Sir Menzies Campbell told the BBC's World At One he would vote against the government if it tried to turn Lord Browne's fees proposals into law.
He said: "I have the St Andrews University in my constituency. I am the chancellor of the university. My credibility would be shot to pieces if I did anything other than to stick to the promise I made."
Sir Menzies echoed Mr Hughes in saying fellow Lib Dem MPs must make their own judgements.
BBC political editor Nick Robinson said the party would not commit to abstain on the issue because it was so important to its support in university towns and it hoped to get more concessions out of the government.
He said most, if not all, Lib Dem ministers would support the plan - and Labour was split over the issue of a graduate tax. New leader Ed Miliband supports one, but his shadow chancellor Alan Johnson - who was a higher education minister when Labour introduced tuition fees - has opposed one.
Lord Browne's review, ordered by the previous government in November 2009, recommended English universities be allowed to charge unlimited fees, ending the current annual cap of £3,290.
It comes amid rising demand for places at universities which are unable to expand to provide them - due to government spending cuts. Further cuts are expected to be announced on 20 October in the comprehensive spending review, as the government seeks to reduce the deficit.
But students have warned that they will challenge MPs who "betray" pre-election pledges.
The National Union of Students said graduates would be left with "crippling levels of debt and many universities face utter devastation as a result of horrific cuts".
Elsewhere in the UK, Scottish students studying in Scotland do not have to pay any fees. In Northern Ireland and Wales, fees are charged up to a maximum of £3,290 a year.
Related Internet Links
The BBC is not responsible for the content of external sites.