Six former MPs yet to repay expenses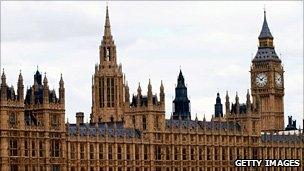 Six former MPs have still not made repayments requested by expenses auditor Sir Thomas Legg in February.
Ivor Caplin, Diana Organ, Helen Clark, Lorna Fitzsimons, John Lyons and Baroness Adams collectively owe nearly £50,000, the BBC's World at One found.
Mrs Clark and Mr Lyons have made arrangements to repay their claims - but the other four were described by Commons authorities as refusing to pay.
Baroness Adams and Ms Fitzsimons dispute that they owe money at all.
Sir Thomas's review of all MPs' expenses claims dating back to 2004 ruffled feathers when he reported back in February - and told MPs to repay £1.1m.
Among criticisms were that he had applied limits to claims for services like gardening and cleaning that were not in place at the time and told MPs to repay the difference.
Sir Thomas argued that there were standards in place about "specific and proportionate" expenditure - and MPs should have been aware of them, as they were "self-certifying as to the propriety of their use of the allowance".
Responding to a Freedom of Information request from the BBC Radio 4's World at One programme, the House of Commons confirmed that of the 389 MPs Sir Thomas had asked to repay money, six still had not done so.
Sir Thomas had asked former defence minister Mr Caplin to repay £17,865 for mortgage interest claims. MPs were entitled to claim for the cost of mortgage interest on their second homes, but Sir Thomas queried all payments given where he was not given receipts or statements to back them up.
A spokesman for Mr Caplin, who has previously said he was never contacted by Sir Thomas, told the BBC: "Mr Caplin has never been given an opportunity to explain the claims he made but welcomes the chance he has recently been given to do so and looks forward to working with the House authorities to resolve this matter."
The BBC was unable to reach Ms Organ, who was asked to repay £15,964 for mortgage interest - reduced to £14,901 on appeal - again because Sir Thomas said he had not been provided with evidence to back them up. The Commons says she still owes £12,803.
Baroness Adams, the former MP for Paisley North, was also told to provide proof to back up £4,110 she claimed on her mortgage interest payments.
She told the BBC she had written to the Commons to say she now has the proof that she paid about £7,500 in mortgage interest that year - but she had been told they were not going to go over Sir Thomas's report again and they would not accept it.
She said the Commons had seemed "more interested in upholding the report than finding the truth".
"For that reason I will not be paying what I do not owe," she told the BBC.
"[I am] quite happy to pay anything I do owe, but this I most certainly do not owe. They're unwilling to accept it they don't want to reopen Sir Thomas's report... If they want to take me to court on this, I'll be happy to go."
Of the six Ms Fitzsimons has the lowest repayment demand - £500 of a £2,700 claim for a suite, which "exceeded the guideline price" of £2,200.
The so-called "John Lewis list" was used by Commons staff to determine appropriate prices for furniture and other household items claimed by MPs - but MPs were not aware of it until it was made public during a Freedom of Information case involving the Commons authorities. According to the list a suite of furniture was actually priced at £2,000 in 2005.
Ms Fitzsimons told the BBC she was still waiting for proof the rule existed in writing at the time.
"I'm not saying that it's any different to any of the other Members of Parliament or ex-Members of Parliament who settled up because they realised the debate had been lost. Mine is a point of principle, I will settle any bill that anybody says I owe on receipt of evidence that the rule existed and that I broke it."
Well over a year since the expenses scandal broke - it continues to cause problems for MPs. On Thursday the Labour MP Denis MacShane was suspended from the Parliamentary Labour Party when a complaint about his expenses was referred to the police. He said he regretted the development and would co-operate with police.
And Tory Bill Wiggin was ordered by the Commons standards and privileges committee to apologise to MPs for wrongly designating the home he claimed expenses on and told to repay £285 he overclaimed in council tax, and £4,009 for claims "that we have concluded he did not actually incur".
The standards and privileges committee heard he had routinely claimed £240 a month - £10 below the limit for claims that did not require receipts. Mr Wiggin argued that he had actually spent more than he claimed for.