Thousands of Whitehall salaries published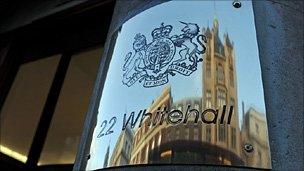 The salaries of thousands of civil servants working in government departments have been revealed for the first time.
Individuals earning more than £82,900 have been named.
Until now, only senior civil servants earning more than £150,000 had their salaries published.
The data includes job titles and, in some cases, telephone numbers and e-mail addresses, and should enable the public to find out which senior civil servants are responsible for specific areas of policy.
The government says it wants the public to search the databases to get a better idea of how the government machine works.
The structure charts give an insight into David Cameron's Downing Street, with the prime minister's office listed as having 178 full-time equivalent staff.
Mr Cameron's permanent secretary, Jeremy Heywood, earns between £150,000 and £155,000 - more than the £142,500 the PM takes home.
Deputy Prime Minister Nick Clegg's office and Constitution Group has 92 staff, but his income as a Cabinet minister, £134,565, means that unlike Mr Cameron his salary is not exceeded by his staff. Mr Clegg's highest paid official, director general of Constitution Group Rowena Collins-Rice, earns £130,000 to £135,000.
Special advisers to ministers are not included in the data, as their names, roles and pay are published separately on an annual basis.
Other facts to emerge from early analysis of the spreadsheets, include Defra Permanent Secretary Helen Ghosh being the highest paid in her department with Robert Watson, Chief Scientific Adviser, on £135,000 to £139,999, second and the finance director though paid more than the Permanent Secretary in Culture, Media and Sport, is joint fifth at DEFRA, with a salary of between £125,000 to £129,999.
Salary details of staff below Pay Band 2, which starts at £82,900, will not be published. But job titles of senior civil servants on Pay Band 2, between £58,200 and £117,800 are included.
The Cabinet Office says the move is part of the coalition's commitment to greater transparency.
Cabinet Office Minister Francis Maude said: "Today we have published detailed organisational charts showing how many people work in every branch and level of central government. For the first time anyone who wants to can see at a glance how many people work in any team in any department, giving an unrivalled insight into the way government works.
"Although I know these charts are not yet perfect, I believe that it is better that we publish the data we have as soon as we can in order to be as open as possible.
"Over the coming weeks even more data will be added and further details released so that the public can really hold us to account for how the government spends their money."
Data has been published by the Attorney General's Office, Cabinet Office, DCLG, DCMS, Education, Energy and Climate Change, Defra, Health, International Development, Transport, Work and Pensions, HM Revenue and Customs, Ministry of Defence, Justice and the Northern Ireland Office.
But not all departments have published salary details and there is no data at all, as yet, from three of the biggest departments, the Home Office, Foreign Office and the Treasury.
A Cabinet Office source said data on other departments would be published in due course.
In June, the government published the names, grades, job titles and pay rates of the most senior civil servants, with salaries above £150,000.
The government is committed to releasing previously hidden data on how taxpayers money is spent - from November all items of central government spending over £25,000 will be published online and all local council spending over £500 will go on online from January.
But it has scrapped plans to name individual civil servants earning more than £58,000 after concerns were raised about privacy.
Writing for the ConservativeHome website, Francis Maude said: "After careful consultation with officials across Whitehall, we concluded that the balance between transparency and privacy would best be struck by not releasing this personal information."
He said he had commissioned "an independent report for government on open data and personal privacy" to focus on the data the government planned to publish over the coming months.
Related Internet Links
The BBC is not responsible for the content of external sites.