'Volunteering should be easier', charity TimeBank says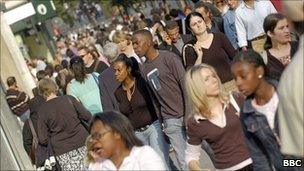 Employers should make it easier for staff to take time off to volunteer, the charity TimeBank has said.
It surveyed a total 1,583 people registered with its website about David Cameron's plans for a "big society".
He wants community and voluntary groups to have more power over the running of public services.
But the charity, which is partly funded by the government, said 570 out of 1,202 respondents appeared unenthusiastic about the idea.
The respondents had the option to not answer every question put to them on 11 August.
The survey suggested that those questioned were eager to volunteer and liked the idea of a "big society", but many were uncertain about how it would. A total of 32% (366 out of the 1,202) said they thought the idea either "sounded great" or was "brilliant".
The prime minister has said groups should be able to run post offices, libraries and transport services and shape housing projects.
Mr Cameron believes transferring power from the state to individuals will ensure greater "people power" and wider change.
The TimeBank charity puts volunteers in touch with organisations, bodies or individuals that require help.
Those who register with its website offer to give up a set amount of their time for voluntary work.
Of the 1,207 people who answered a question about what government "big society" plans appeal to them most, 672 said they thought the idea of training 5,000 people to get communities working together to tackle problems sounded attractive. A further 630 respondents believed that plans to encourage everyone to volunteer also appealed.
But 139 respondents disagreed with plans outlined.
Of those quizzed on their current volunteering status, 43.7% (523 out of the 1,196 who answered) said they were already volunteering, while 21.8% (261) said they were still seeking the right opportunity.
In a statement, TimeBank's chief executive Helen Walker said: "The people most like to 'be' the 'big society' have told us that they find it hard to volunteer.
"They also told us that the top thing that would encourage people to volunteer is support from their employer. So if the 'big society's' going to work at a time when the voluntary sector is under threat, we are urging the private sector to step in and support their staff to volunteers."
When asked what they thought would encourage more people to give up their time, the majority (321; 26.8%) of the 1,198 people who answered, said employers giving people time off to volunteer.
Felicity Pethica, who volunteers as a parish councillor and is a member of a sustainability group in her hometown of Pangbourne, Berkshire, said she understood the big society to be a type of scheme that would "encourage more people to involve themselves in running local affairs".
The 51-year-old, who is registered with the TimeBank site, added: "The 'big society' is not something new - it is a marketing tool to make a bigger even more involved society - that doesn't make it a bad thing - just not new."
The Office for Civil Society, which helps fund the charity, is set to cut its budget for strategic partners from £12.2m to £7.5m.
Some 60% of 25 to 34-year-olds said they were too busy, rising to 66% among 35 to 44-year olds, and falling to 53% of those aged 45 to 54.
The poll of the 1,001 people interviewed by ComRes from 13 to 15 August also found most people preferred traditional voluntary activities such as working in a soup kitchen or coaching sports.
Related Internet Links
The BBC is not responsible for the content of external sites.