David Laws hints at return to government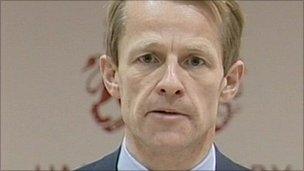 Former Treasury minister David Laws has hinted that he hopes to return to government, saying that "everybody wants to be in the front line".
Mr Laws, who quit the cabinet in May after admitting he claimed expenses to pay his partner rent, said he was still "very close" to his former colleagues.
But the Lib Dem MP told the BBC's Pienaar's Politics show that he was "not being missed" in government.
Mr Laws was the first minister to resign after the coalition was formed.
He quit as chief secretary to the Treasury after just 16 days in the job, following reports he had claimed expenses to pay rent to his partner, the lobbyist James Lundie.
Mr Laws was replaced in the job by fellow Lib Dem Danny Alexander, who has overseen much of the detail of the government's Spending Review, which will be published on Wednesday.
Asked by BBC 5 live's chief political correspondent John Pienaar if he missed being a minister, Mr Laws replied: "Everybody in politics wants to be in the front line...
"Everybody wants to have their hands on the levers. I don't think I'm exceptional in that regard politically. Everybody wants to be in the front line."
Mr Laws, MP for Yeovil, said: "But I'm reassured because we've got a damn good chief secretary to the Treasury in Danny Alexander. We've got Nick Clegg, who's taking a very close day-to-day interest in the Spending Review.
"There are four big hitters who are taking the strategic decisions on the spending review and two of them are Lib Dem colleagues who I'm very close to, who I respect, who I admire, who I trust, who I know are having a real influence, and I'm reassured by that. I'm not being missed, I assure you."
He added: "I've obviously bumped into Nick in particular on a number of occasions and obviously I've talked to him about some of the things that I've been associated with in the past, like the schools funding issue... because I was the schools spokesman in the last parliament.
"But I don't think Danny or [Chancellor] George Osborne need anybody in the back seat trying to reach over and grab the steering wheel."
But Mr Laws went on: "When they ask for it [advice], I give it."
The Spending Review will outline the government's plans for spending cuts, as it seeks to deal with the £155bn budget deficit.
Lib Dem Climate Change Secretary Chris Huhne has recently said the coalition's savings programme could be slowed down if the economy deteriorated, arguing that it was not "lashed to the mast".
Asked about this, Mr Laws said: "There is always an issue of looking at the circumstances and thinking about whether changes are so significant that you want to tweak things at the margin.
"But actually no chancellor of the Exchequer wants to get into a position where, having laid out carefully thought through and balanced plans for a four-year period, they start tearing them up five minutes later."
In May the Telegraph reported that, between 2004 and 2007, Mr Laws had claimed between £700 and £950 a month - about £40,000 in total - to sub-let a room in a flat in Kennington, south London, from Mr Lundie.
Since 2006, parliamentary rules had banned MPs from "leasing accommodation from a partner" but Mr Laws said he had wanted to keep his relationship with Mr Lundie private.
He resigned and referred himself to the parliamentary standards commissioner.
David Laws' full interview with John Pienaar can be heard on Pienaar's Politics from 1900 BST on BBC 5 live.
Related Internet Links
The BBC is not responsible for the content of external sites.