Courts 'should take more video link evidence'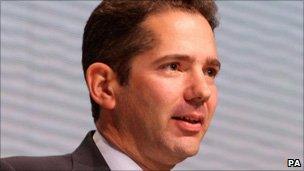 Courts should make more use of video links to make it easier for witnesses to give evidence without going to court, the government has said.
Justice minister Jonathan Djanogly said the system had not kept up with technology and had to "catch up".
His comments came as he briefed MPs on proposals to close 103 magistrates' and 54 county courts in England and Wales.
The plan would save £15m a year in running costs and £22m in building maintenance costs, Mr Djanogly said.
The government is still consulting on the court closure proposals, which has prompted widespread concern among the legal profession.
Mr Djanogly told the Commons justice committee a decision would be made before Christmas.
Some 300 magistrates' courts deal with minor crimes, crown court committal hearings and licensing applications.
There are also 216 county courts dealing with claims for debt repayment, housing disputes and family issues such as divorce and adoption.
Mr Djanogly said: "I don't see the future being in bricks and mortar. The justice system has not kept up with the use of technology.
"At some point we are going to have to catch up and that means particularly more use of telephone and video conferencing."
Witnesses should not have to travel around the country when it was appropriate for them to give evidence from their local police station by video link, he argued.
"It is a very important issue and one that we are going to have to look at," he said.
Committee members expressed concern that any efficiencies of scale from the closures would be lost by solicitors, witnesses and other involved in cases having to travel further to a court.
But Mr Djanogly said 75 to 80% of the population would still be no more than an hour away from a court by public transport. And only 20% of people going to court used public transport.
"This is not like a post office closing. Most people do not go to court very frequently, " he said.
"We have moved away from the Victorian idea that there would be a court in every town. Access to justice isn't just about proximity."
Larger courts with good facilities were preferred by solicitors who could deal with a number of cases in one day, Mr Djanogly said. Justice would also be speedier for those facing a trial, he told MPs.
Related Internet Links
The BBC is not responsible for the content of external sites.