Former Tory MP told to apologise over expenses errors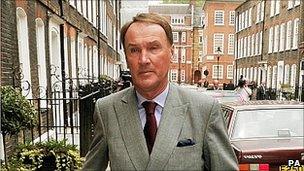 Former Tory MP Andrew MacKay has been told to apologise after being found to have made a "serious misjudgement" over his parliamentary expenses claims.
Mr MacKay and his wife Julie Kirkbride, also an ex-MP, each claimed public money on their respective second homes.
After an inquiry, the Commons Standards and Privileges Committee said the arrangement was "fundamentally wrong".
The couple, who both left Parliament at the last general election, have repaid £60,000 in claims between them.
Mr MacKay, a former aide to David Cameron, was one of the most senior and high-profile Conservative MPs to be criticised for his expenses claims amid the outcry over the abuse of rules relating to second homes.
Following an investigation by the Parliamentary Standards Commissioner, triggered by a complaint against Mr MacKay concluded that the taxpayer was effectively paying for two of the couple's homes while they were MPs.
Mr MacKay claimed on the property they shared in London, while Ms Kirkbride claimed on the family home in her Bromsgrove constituency.
"In our view, it should have been obvious to Mr MacKay that the arrangement whereby he and Ms Kirkbride each designated the other's second home as their main home, allowing both to be funded from parliamentary allowances, was fundamentally wrong," the committee said.
Accusing the former MP for Bracknell of a "serious misjudgement", it asked him to apologise in writing to Parliament.
The committee was not asked to judge on Ms Kirkbride's conduct regarding this arrangement as no complaint was received against her.
However, it has separately cleared the former MP for Bromsgrove of any wrongdoing after she increased her mortgage claims to pay for an extension to her home - one of whose rooms was used by her brother.
Ms Kirkbride said she was "delighted" by this verdict.
Separately, the Commons watchdog has also dismissed a complaint against the Conservative MP Nadine Dorries over claims she abused the second home rules.
It said allegations, made by a BNP member, that Ms Dorries had claimed expenses for a property she was not entitled to were unfounded.
It was suggested that the MP claimed expenses for a home in her Bedfordshire constituency when it was actually her main residence, but the watchdog said the overwhelming body of evidence suggested this was not the case.
Ms Dorries said she was pleased by the verdict and, following 15 months of allegations against her, could "once again hold my head high".