Nadine Dorries MP says her blog is '70% fiction'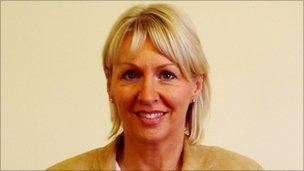 MP Nadine Dorries has said that the blog she writes on her constituency website is "70% fiction and 30% fact".
She was criticised by the MPs' standards watchdog for giving the impression on the site that she spent more time at her Mid-Beds constituency home than she actually did.
Ms Dorries, a Conservative MP since 2005, was cleared of the main charge of misusing her allowances.
She said she had written "fiction" to protect her family and staff.
The MP told BBC Radio 4's PM: "I think I probably meant to say it was 30% fiction."
But she said there was "purpose to it", because she had received "unwanted and inappropriate attention" during the investigation into her expenses and the police had advised her that her blog, which mentioned dates and times of her public engagements, was making her a target.
The police had told her "the best thing to do was try to disguise" her movements, she told PM.
She said the 15 month investigation into her expenses had been a "horrific" ordeal, which had seen her front window smashed, eggs thrown at her house and her daughter bullied, and she was relieved to have been cleared and could now "hold my head up high" again.
She told PM she would continue to write her blog, which is one of the most popular at Westminster, adding: "I have been as honest as any MP can be with my constituents".
Parliamentary Commissioner for Standards, John Lyon, earlier rejected a series of complaints made by a BNP spokesman that Ms Dorries lied about where her second home was and made inappropriate claims.
But she was criticised for comments on her blog which "suggested that she spent the majority of her weekends in the constituency, whilst she had told the Commissioner that nearly all weekends were spent in her main home".
Explaining the discrepancy, she told the watchdog: "My blog is 70% fiction and 30% fact.
"It is written as a tool to enable my constituents to know me better and to reassure them of my commitment to Mid Bedfordshire.
"I rely heavily on poetic licence and frequently replace one place name/event/fact with another.
"In the light of the bullying onslaught of the Daily Telegraph (which reported the claims about her expenses) I used my blog to its best effect in reassuring my constituents of my commitment to Mid Beds. My commitment is absolute and is always my first consideration regardless of where I sleep at night.
"However, I have always been aware that should my personal domestic arrangements become the knowledge of my political opponents, they would be able to exaggerate that to good effect. Hence the reason for my blog and my need to reassure my constituents."
She also told Mr Lyon that she had wanted to maintain "some degree of a private life" and that, although she was often in the constituency at weekends, as she had said on her blog, that did not mean she slept there.
The Commons standards and privileges committee said Mr Lyons accepted her explanation of the blog entries but "notes that they 'provided a misleading impression of her arrangements', as did her comments about her use of the constituency home reported in the newspaper article which was referred to in the original complaint".
In a series of letters to the commissioner, which are included in the report, Ms Dorries explains why she wanted to give the impression that she lived at a house she was renting in her constituency.
She says: "Since I first rented in the constituency, I made a song and dance about being at the property. I have mentioned it on my blog a number of times.
"This was done to comfort my Association. The previous MP only visited the constituency occasionally-sometimes only as often as once every six weeks - and they were keen that I reversed that impression.
"His lack of time in the constituency contributed to his de-selection."
The £18,000 rent on the constituency house was paid using her second home allowance - she said she had considered buying a house with the allowance but it "just didn't feel right".
While attending Parliament in London, she mainly lived at her family home in the Cotswolds, and until December 2006 claimed for overnight stays in a Westminster flat.
After that, she occasionally stayed overnight in a hotel or at the Carlton Club, a central London gentleman's club with traditional links to the Conservative Party, the report reveals.
In January 2007, she changed the location of her second home to the constituency home, where her diary shows she spent 89 nights in 2007/08, compared with 223 at her main home, 10 nights in London and 44 elsewhere.
In one of her letters to the watchdog, she describes the constituency home as an "extremely modest" terraced house that was mostly unfurnished or carpeted.
When she was interviewed by a Sunday Telegraph reporter last year she said she transported "boxes of books and ornaments and a couple of pictures to make the place look lived in".
"The Sunday Telegraph journalist saw through this and commented on the sparsity and dustiness of the house and the fact that the post hadn't been picked up from the mat for two weeks.
"I then described it as my 'post divorce bolt hole' even though I wasn't yet divorced in order to give the impression to my constituents that I did in fact live there and to convince the journalist that I did."
A subsequent Daily Telegraph article, which said she spent only spare weekends and holidays away from her constituency home, prompted a complaint from BNP spokesman Michael Barnbrook, who told the Commissioner that in his view she had breached the rules of the Additional Cost Allowance by claiming second home expenses.
Ms Dorries produced detailed extracts from her office diary to prove that she had spent most of her nights at her main home, as the rules demand, and the watchdog also spoke to her constituency neighbours before deciding to reject the complaints.
Ms Dorries' blog is one of the most widely-read and popular blogs at Westminster. Former foreign secretary Jack Straw is among those who have said they are a fan.
Related Internet Links
The BBC is not responsible for the content of external sites.