Three peers suspended from Lords over expenses claims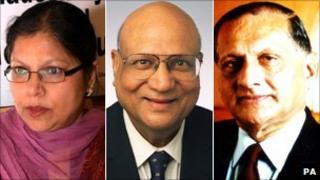 Three peers have been suspended from the Lords for wrongly claiming expenses totalling tens of thousands of pounds.
Baroness Uddin was suspended until Easter 2012 and told to repay £125,349, cross bencher Lord Bhatia, who repaid £27,446 was suspended for eight months.
Those suspensions are the toughest since 1643. Lord Paul, who has repaid £41,982, was suspended for four months.
Lords leader Lord Strathcylde said they "fell short" of expected standards in their use of the overnight allowance.
Racism concern
But some concerns were raised in the House of Lords that the only three peers referred to the Committee for Privileges and Conduct were Asian - Labour peer Lord Alli asked Lord Strathclyde to look into whether "there has been inconsistency on the basis of race or otherwise".
The committee's chairman, Lord Brabazon, said Lady Uddin and Lord Paul had been referred to the committee, rather than being part of a separate inquiry by the Clerk of the Parliaments - because they had been the subjects of a police investigation.
Lord Bhatia had failed to provide written assurances so his case had also been referred, he said.
On Thursday peers approved the penalties recommended by the committee. Baroness Uddin has already been suspended from the Labour Party and Lord Paul has resigned his Labour Party membership.
They were investigated following allegations that members of the House of Lords had been deliberately designating little-used properties outside London as their "main homes" - so they were entitled to claim an overnight allowance to stay in London, which had been worth £174 a night, and travel expenses.
Baroness Uddin and Lord Bhatia's suspensions were longer than those handed out to Lord Truscott and Lord Taylor, who became the first peers to be suspended from parliament since the 17th Century, when they were barred for six months in May.
Labour's leader in the Lords, Baroness Royall said they were "penalties of a severity never seen before in either House of Parliament".
She said peers would sympathise with the peers but added: "We have a duty to this House, to the members of this House, to Parliament and to politics as a whole to right the wrongs when we find them, to take action to put our House in order."
Lord Strathcylde said the suspensions were "fair and just": "I believe that all three peers concerned fell short of the standard of conduct that the House and the public are entitled to expect. We must as a House act decisively."
The committee's report, published earlier this week, notes that all three of those investigated "had long-established London residences, in which they spent the bulk of their time, before acquiring a 'main residence' outside London, in which they spent a much smaller portion of their time".
Baroness Uddin was criticised for designating a house owned by her brother in Essex as her "main home" for four years - and for a further five years saying her main home was a flat in Maidstone, Kent.
During the period her family home was a three-bedroom house in Wapping, east London, rented from a Housing Association. The committee found Baroness Uddin's claims were "made wrongly and in bad faith".
Lord Bhatia was criticised for designating a property in Reigate, Surrey, as his main home between October 2007 and January 2009 - a property he shared with his brother - at a time he owned a family home in Hampton, greater London, where he continued to spend weekdays.
An inquiry found he "did not act in good faith". Lord Bhatia claimed that the committee had "ambushed" him with "extremely hostile" questioning.
The committee also said Lord Paul, a Labour donor and steel magnate, had "freely admitted" he never spent a night at the one-bedroom flat in Oxfordshire he designated as his "main residence" between late 2005 and end end of July 2006.
The report suggested he had misinterpreted the term "main residence" and insisted that "anyone coming out of India would not understand what main residence means".
He was criticised on Thursday by crossbencher Baroness Flather, the first female Asian peer, who said: "All of us know what they mean and if we don't, may I suggest that we should not be sitting in this chamber".
Lord Paul's suspension was shorter and the committee said that, on the balance of probabilities, it could not claim he acted dishonestly or in bad faith.
But its report said he had not looked at the guidance on allowances forms and his actions "were utterly unreasonable and demonstrated gross irresponsibility". Lord Paul argued the rules had been unclear and said he had been treated "more harshly than others".